What is the mission of the INSEEC Bachelor?
The INSEEC Bachelor is a program of INSEEC, part of the Omnes Education group.
This program is accessible after the Baccalaureate and takes 3 years to complete. Parallel entry is possible in the2nd and3rd years for holders of a Bac +1 and Bac +2. This course trains operational managers who have acquired both the fundamental concepts of management in the broad sense (economics, law, human resources, corporate strategy, management, etc.) and a progressive specialization for the construction of their professional project.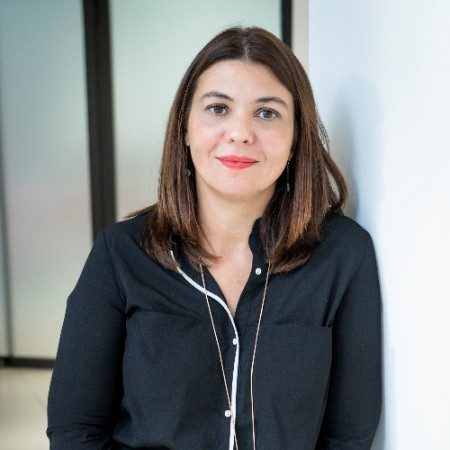 Dans un monde en perpétuel changement où la création de valeur est devenue un impératif catégorique de la gestion d'entreprise, le programme INSEEC Bachelor forme des futurs managers capables de concilier créativité, efficacité et agilité. Notre pédagogie participative et innovante permettra au jeune diplômé de développer les compétences et savoir-être les plus recherchés par les entreprises.
Marion FABRE
Directrice INSEEC Bachelor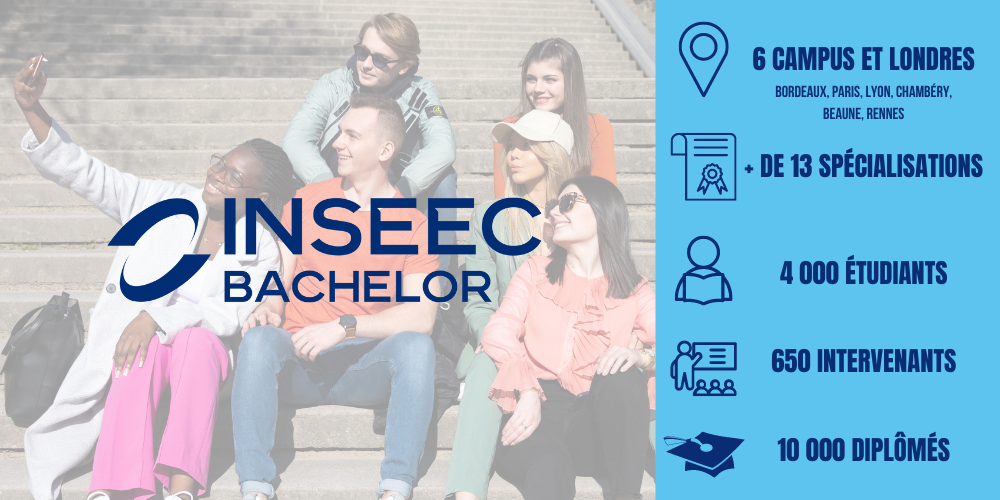 What is the pedagogical approach of the INSEEC Bachelor?
Combining business fundamentals and progressive specialization
Joining a Bachelor's programme means creating a tailor-made course over three years in order to progressively build your professional project. Support and professionalization are at the heart of our programs so that the student can realize his or her project.
The first year opens the cycle of learning the fundamentals and codes of business: the subjects that any student from a business school should know (marketing, finance, management, strategy, etc.). English is compulsory and the learning of a second language is optional (among 20 languages to choose from). Students choose an option in the first year to discover and learn about a sector (luxury, sports, marketing, management, international business, finance, real estate). In parallel with these courses, students carry out projects to apply the theoretical knowledge acquired in class.
In the second year, the cycle of fundamentals is completed and the initiation to the discovery of the major specialized functions of the company and the methods begins. The student can change option if he wants to discover another universe or keep the same one to deepen his knowledge. Project work always complements the theoretical lessons for a concrete pedagogy directly linked to the business world.
The third year provides all students with the technical and practical elements of future professional choices and the development of professional skills. In addition to the solid generalist background acquired during the first two years, students benefit fromspecialised teaching in the sector of their choice from among more than ten specialised programmes: management, finance and real estate, business and development, luxury and wine, digital and data, marketing and communication, and sport. This third year can be done on a sandwich course (apprenticeship or professionalization contract).
Develop soft skills and optimize your employability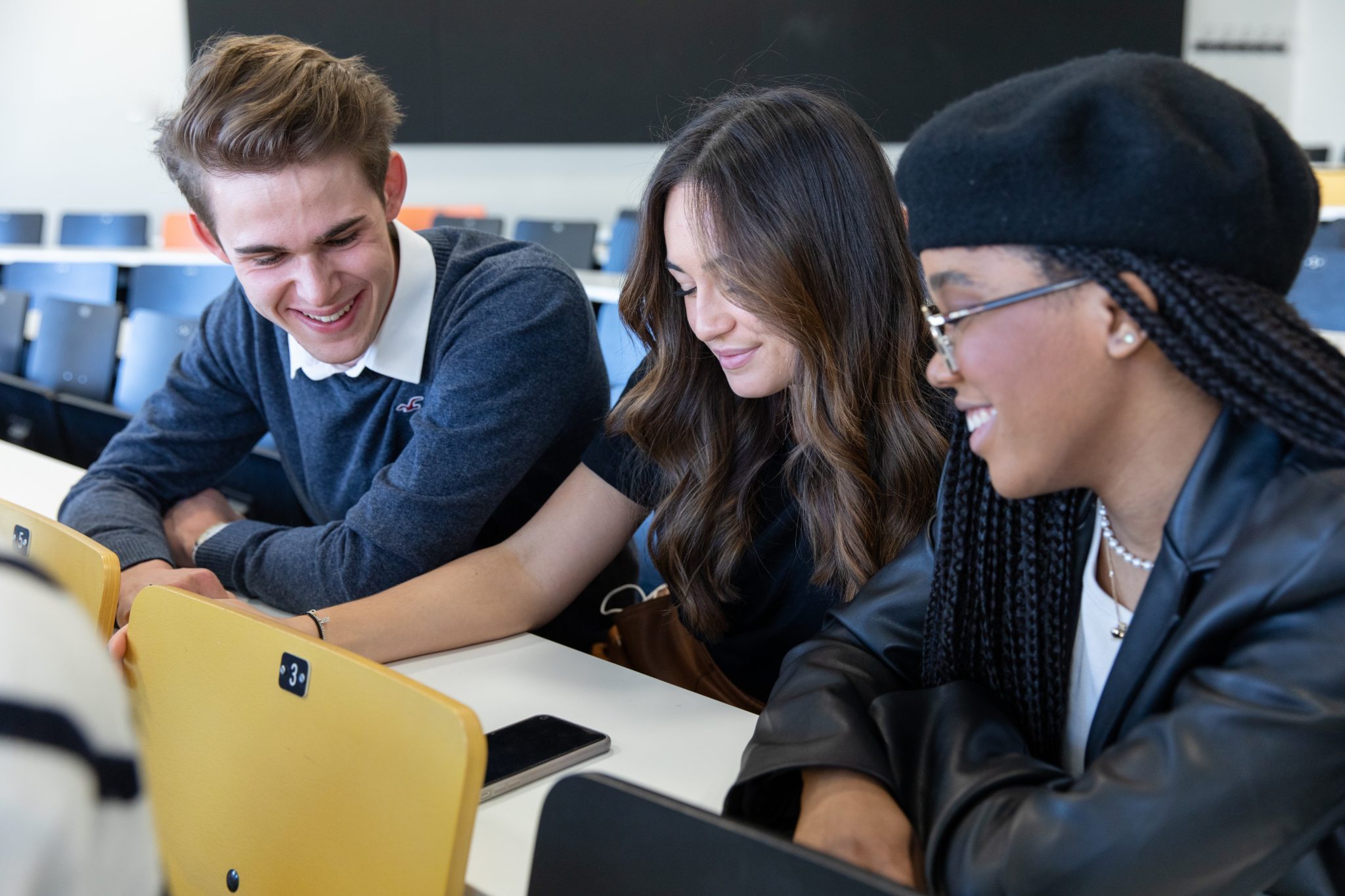 In addition to courses and projects, the INSEEC Bachelor program offers its students the opportunity to work on developing and enhancing their soft skills through seminars, workshops and challenges. Associative life also allows them to work in teams, in project mode, and to open up to the world by giving "something extra" to their CV.
A true pillar of the INSEEC Bachelor's pedagogy, the professionalization of the curriculum guarantees our graduates a rapid and successful professional integration. The first two years are marked by compulsory and optional periods in companies, allowing students to gain experience, develop skills and test out different professions and sectors of activity in order to refine their career plans (up to 10 months in a company is possible).
In the third year, students can work in a company on a sandwich basis from the beginning of the school year, or do a full-time internship during the second semester. In total, our graduates can accumulate up to 16 months of professional experience, in France or abroad, and thus be operational as soon as they are hired. Adaptability, pragmatism and the ability to work in a team are significant assets of INSEEC Bachelor graduates, as companies recruiting these profiles point out.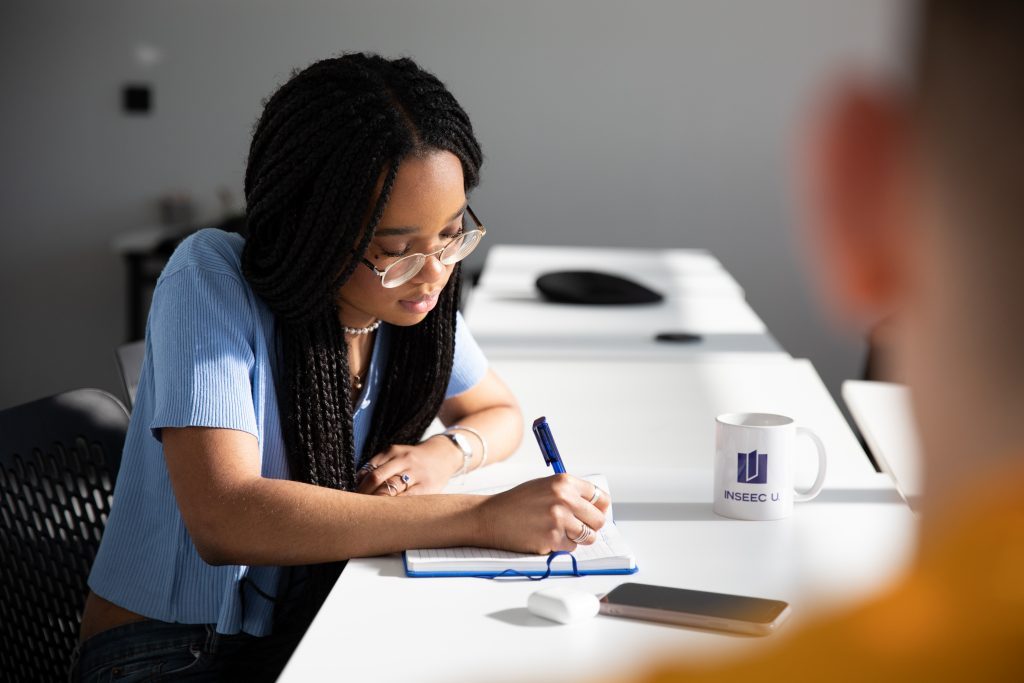 Give your career an international dimension
Depending on the programme and campus, students have the option of spending a semester on the London campus or at one of our partner universities. The courses, taught by native teachers, combine respect for pedagogical constraints and a grounding in the socio-economic reality of each country. This international dynamic gives the student an opening to the world and allows him to acquire a good command of the language of business.
Professional integration or further studies
At the end of the course, INSEEC Bachelor graduates can decide to join a company directly in a middle management position or to continue their studies in France or abroad. They can benefit from direct admission to INSEEC's Grande Ecole or MSc & MBA programs.
Rencontrez-nous lors des prochaines réunions d'information
INSEEC Bachelor's certifications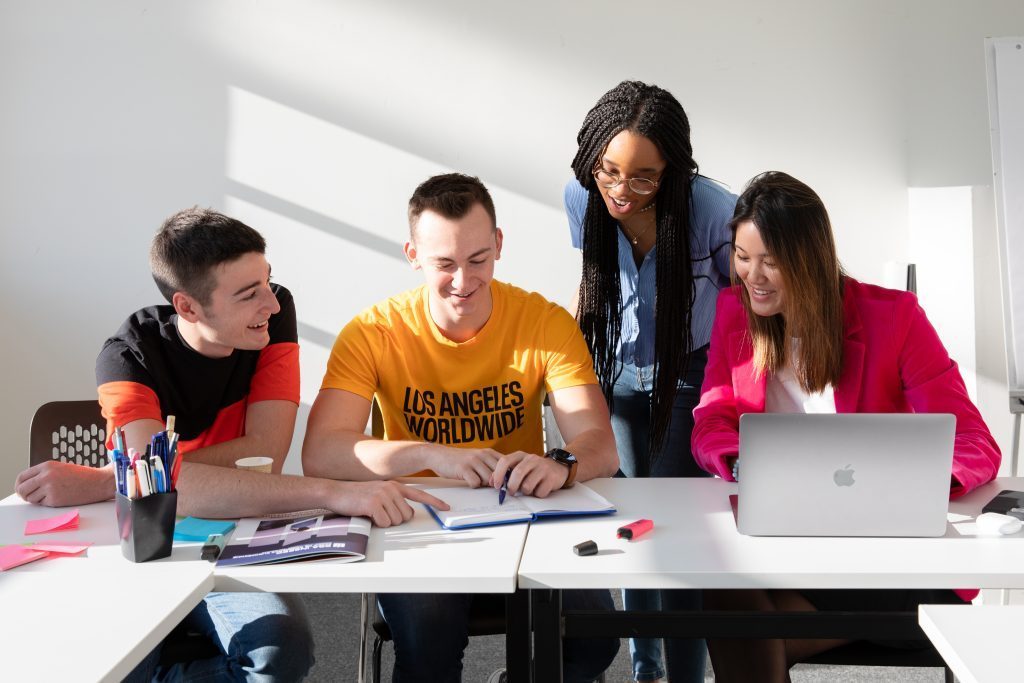 INSEEC Bachelor programs are certified by FRANCE COMPETENCES. These certifications provide access to quality training through the acquisition of professional skills. All our programs deliver a level 6 professional title (EU) registered in the RNCP (Répertoire National des Certifications Professionnelles).
The list of our RNCP titles is available here.
Our school also obtained in November 2020 the Qualiopi quality certification for 4 years after an audit carried out by AFNOR Certification. Qualiopi attests to the quality of the processes put in place by the INSEEC Bachelor and makes our training offer easier to understand for our students.
What are the courses offered by the INSEEC Bachelor?
PARCOURS DE PROFESSIONNALISATION – MARKETING & COMMUNICATION
PARCOURS DE PROFESSIONNALISATION – MANAGEMENT, FINANCE & IMMOBILIER
PARCOURS DE PROFESSIONNALISATION – LUXURY AND WINE
PARCOURS DE PROFESSIONNALISATION – BUSINESS & DÉVELOPPEMENT
PARCOURS DE PROFESSIONNALISATION – DIGITAL ET DATA
To help you with your choice of specialization, do not hesitate to consult the career opportunities page, with job descriptions and examples of CVs of former students.
More information on the courses offered by the INSEEC Bachelor
On which campuses are our INSEEC Bachelor courses offered?
Does the INSEEC Bachelor offer the possibility of doing a sandwich course?
Alternating courses are possible in the3rd year (professionalization or apprenticeship contract).
More information on the page dedicated to work-study.
Are multiple entries possible?
Two entries are available each year:
September/October
February/March (depending on the campus and course chosen)
The start dates vary depending on the campus and course selected.
Is the INSEEC Bachelor program eligible for state scholarships?
Bachelor's students are not eligible for CROUS state scholarships, but a €500 discount on tuition fees is granted upon presentation of the CROUS notification of award corresponding to the academic year of integration.
Other types of scholarships or discounts are available.
Is the diploma recognized by the State?
The Bachelor's degree delivers a certified RNCP level 6 title recognised by the Ministry of Employment.
You will find the list of our RNCP titles on this page.
What are the eligibility requirements for the INSEEC Bachelor?
Admission to the1st year: Baccalaureate
Admission to the2nd year: hold a Bac +1 level diploma (60 ECTS)
Admission to the3rd year: hold a diploma at Bac +2 level (120 ECTS)
How to apply to the INSEEC Bachelor program?
The application is made online on our website, it is detailed on our admissions page.
Updated 11 October 2022