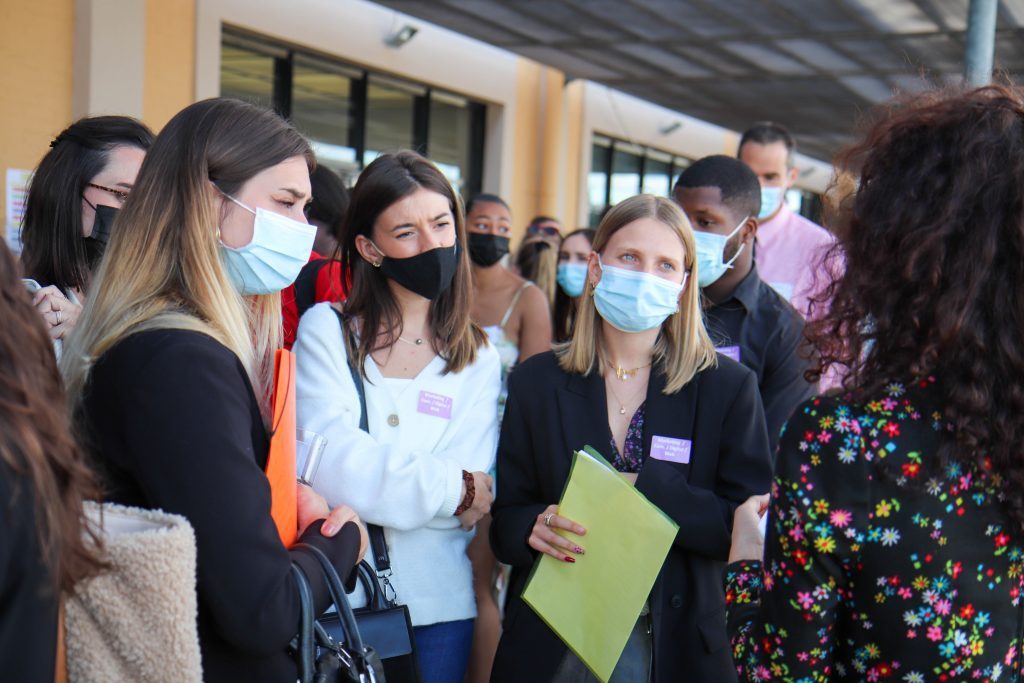 One of INSEEC's commitments is to provide our students with numerous opportunities for exchanges with professionals in order to offer them the best possible internship, work-study and professional experience.
Through the various "corporate" events:
Our partner companies can source their new employees and keep up to date with the school's news (new programs, professional conferences etc.)
Our school can deepen its relationships with our corporate partners and recruit new staff, keep abreast of trends and market developments
Our students can discover a multitude of professions and career opportunities. We offer them the opportunity to build their professional network.
INSEEC Entreprises events
From registration to hiring, our school INSEEC is at the side of our students to accompany and advise them. Through various events organized within our schools, we offer our students the opportunity to connect academic knowledge with the reality of the professional world.
Business week
Every year, in November, INSEEC organizes Business Week on all its campuses, which brings together more than 500 companies from all sectors of activity and of all sizes, offering more than 1,500 work-study and internship opportunities at each event. Do you want to recruit students for sales internships, work-study programs, or fixed-term or permanent contracts? This is the best place for it!
Common to all our schools, this forum allows many students and young graduates to be recruited each year.
This event is an opportunity for students to speak directly with professionals from various companies about their role in the company and their fields of activity.
Students can take advantage of face-to-face meetings to apply for jobs, talk with recruiters and benefit from their advice, but also gather contacts for their future job search.
In addition to the meetings on the stands, professional conferences are also scheduled over several days to help students refine their career plans.
500 companies
gathered on our 5 campuses
All sectors of activity
represented
More than 1500 offers
internships and work-study programs
INSEEC BUSINESS WEEK 2018 Lyon
Thematic conferences and afterworks
Each school's Corporate Relations Department regularly organizes meetings with professionals such as managers, local economic players, executives from partner companies and graduates. These meetings allow all our students to develop their network.
Conferences, roundtables or afterworks, these meetings are privileged moments of exchange that allow students to have a more precise idea of what awaits them on the job market.
Webinaire INSEEC – Keller Williams | « Une révolution immobilière »
Job Dating / Work experience forum / Company forum
These events offer our students the opportunity to convince recruiters in ten minutes in order to integrate them into their sales team. This exercise allows many of them to discover the procedures of a job interview and to become familiar with the business world.
Every year, our students and pre-registrants who are looking for a work-study contract for the start of the academic year in October come to meet our partner companies at the "How to find a work-study company" forum. Participating in this half-day job dating event means finding a person with a work-study contract in a variety of fields: finance, management control, auditing, communication, marketing, digital, big data, project management, HR or even in the purchasing sector.
Business conferences
We offer our students the opportunity to meet with experts in their field. We invite professionals to our business conferences who are involved in strategic and decision-making functions within companies of various sizes: SMEs in strong growth, large groups, firms. At the end of his lectures, our students can exchange with them through questions and answers or in small groups.
In each program, professionals are invited to talk about their career path, to describe the different facets of their profession and the changes in their sector of activity. The objective is to present students with examples of professional opportunities available after business school and also to help them build their network.
Webinaire INSEEC U. – Laure BABIN | Zeta Shoes
Career day
Career Days are organized on a regular basis and give our students access to a large number of companies.
Internships, work-study programs, fixed-term contracts or permanent contracts, this is an opportunity for students looking for professional experience and companies offering recruitment opportunities to exchange ideas together.
Our former students are also invited to these Carreer Days! Indeed, they come back to the Campus to share their experience, testify about their career path, discover their profession and talk about their company's recruitment processes.
Business Game
In order to make students operational as soon as they enter the workforce, short or medium term professional projects and challenges (3 to 10 months) are proposed to them based on real company cases.
This can be consulting missions, simulations of business situations or participation in competitions organized by large groups such as L'ORÉAL, CARREFOUR, BIODERMA, CHARLES & ALICE, VEOLIA…
The aim is to learn how to carry out a project while respecting a set of specifications and a problematic, all this while working with a multidisciplinary team. The objective is therefore for the students to learn to work in the conditions of the company. These missions also give students the opportunity to become known and recognized by professionals.
Challenge de Négociation Commerciale
Our next events
Would you like to speak at these upcoming events?
Nothing could be easier, just contact the Corporate Relations department of the campus of your choice.
---
You are recruiting and want to post an offer?
Offers of internships, professionalization contracts, apprenticeships, jobs….
What is the apprenticeship tax?
The Taxe d'apprentissage is the only corporate tax in France for which you can freely choose the beneficiary.
Updated 17 May 2023