Our teams remain available all summer long!
Discover the testimony of Marina UNG, a student in a work-study program
"I chose the work-study program for two reasons: to gain experience and to finance my training. It's a very formative course where you learn a lot and which allows me to know what I want and what I don't want to do later! I found this opportunity during a job dating organized by INSEEC."
Marina UNG
INSEEC student in work-study at EZYPERF
Discover his testimony in video!
Marina UNG – INSEEC student in work-study at EZYPERF
Find out about your Next Appointments
The Bachelor
MSc & MBA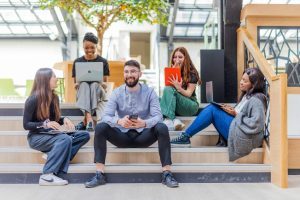 The BBA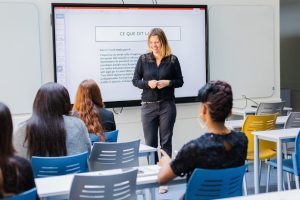 The Grande École Program
With its network of alumni and partner companies, INSEEC accompanies many students from all walks of life each year. By promoting the school/company alternation, INSEEC gives them the keys to professional success and allows them to build their professional future.
NOS SPÉCIALISATIONS
Se professionnaliser grâce à nos 10 domaines de spécialisations
How to finance your studies at INSEEC?
At INSEEC, we believe that alternating periods of school and work is the key to your future professional success.
Find out more about financing, work-study programs and the coaching provided by our Corporate Relations teams.
A business school in Management
INSEEC is a business school in Management which delivers 4 types of programs: BBA (Bac to Bac +4), Bachelor (Bac to Bac +3), Grande Ecole (Bac +3 to Bac +5) and MSc&MBA (Bac +4 to Bac +5). Whether they are students on a traditional course or professionals in retraining, all learners can find a course at INSEEC that corresponds to their criteria and choice of educational path. Several orientation tools are available on our website. The studies can be followed on our campuses in France: Bordeaux, Chambéry, Lyon, Paris or Beaune.
Generalist or specialized training in Bachelor, BBA, Master, Master of Science or MBA
The courses offered at INSEEC lead to a Bachelor's degree (Bac +3 or Bac +4) or a Master's/MSc/MBA (Bac +5). They can be general or specialized, but in any case they are professionalizing. The 10 possible specializations are: finance, business and commerce, marketing, sports, real estate, communication, digital and data, luxury and wine, international, HR and health.
Employability, the key word at INSEEC
Our leitmotiv is to enable our students to find a job easily at the end of their studies. Our pedagogy values the alternating school/company rhythm via work-study (professionalization contract or apprenticeship), internships in France or abroad and the creation of a company. Dedicated events, personalised coaching, professionalising teaching, recruitment for our partner companies… Everything is done to facilitate the placement of our students in companies and thus improve their CVs and their professional posture.
International at the heart of our training
In addition to our national campuses, INSEEC's courses can be taken abroad: London or San Francisco. Academic exchanges, double and triple diplomas also allow our students to go abroad to follow a course in our partner establishments. Many of our courses are also available in 50% or 100% English, allowing our students to perfect their first language and target international careers. All our courses welcome foreign students, and assistance is available to help them with their administrative formalities.
Updated 2 August 2022