The MBA Marketing and Brand Management course
"Branding is more than just the logo, it embodies the personality of the company, it says a lot about who you are, where you are going and why people should love you. It's about personal connections and human emotions.
The objective of the MBA Marketing and Brand Management is to offer a high level program in different key sectors and industries, with highly qualified international speakers, for people who wish to make an international career in brand management.
Program Director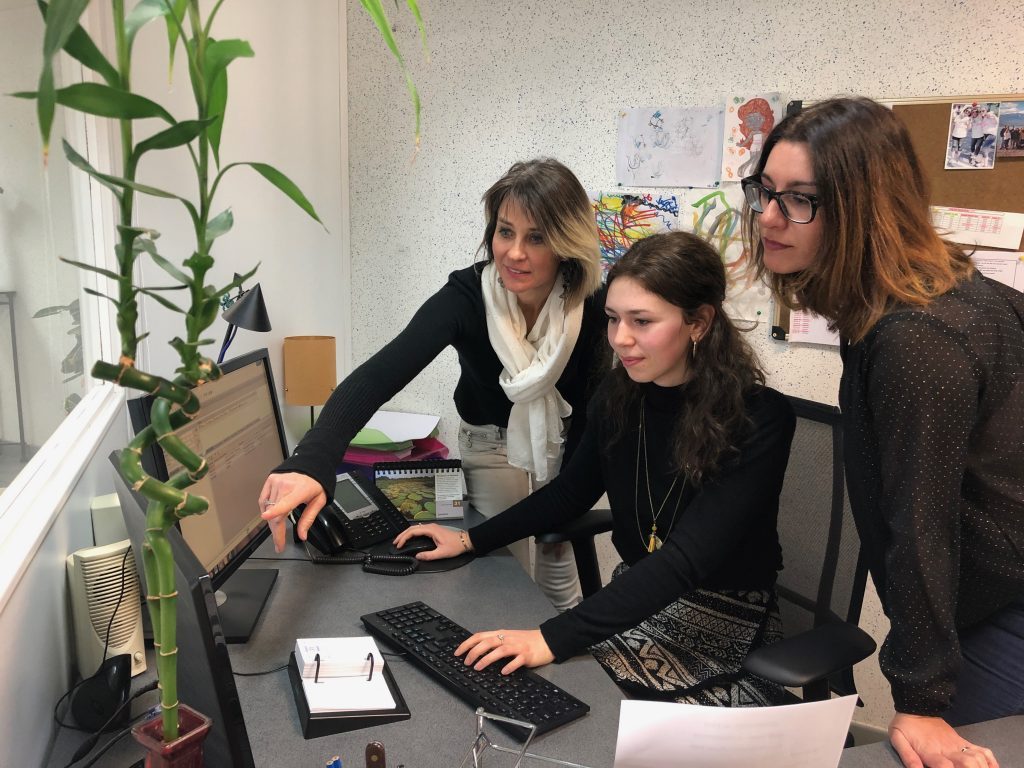 A 1 or 2 year degree to become an expert in marketing
Holders of a BAC+3 can apply for thefirstyear of the MSc, and holders of a BAC+4 can apply directly for the second year.
This MBA program is designed to provide students with an overview of the various areas of marketing, including strategic management, branding, digital communication and market research. It is designed for students with international marketing experience who wish to improve their marketing skills and knowledge of the global environment.
The seminars are led by professionals and are complemented by real-life case studies from leading companies in different sectors.
Want to know more about the MBA Marketing and Brand Management program?
Sign up for an Open House!
The Courses
The courses listed below are examples only and may vary slightly depending on the campus. The content of the courses is adapted each year to market developments and is updated before the start of each new school year.
Les cours de 1ère année
PROFESSIONAL METHODS AND PRACTICES – 1ST YEAR
Business Game
The business game is played using a business simulator. Groups of students are responsible for running a business in real time. All major business functions are covered. Students will make decisions to maximize the profitability of the business.
Ateliers techniques professionnels et Management Personnel
CV writing, recruitment interview techniques for the search for an internship, professional project management, team management and meeting management.
Negotiation techniques, transactional analysis and NLP, speaking and stage fright management, management and leadership techniques (PRADITUS).
Skills assessment, coaching, digitization of the CV and job search techniques at national and international level, preparation for the defence of the applied research thesis.
Conférences Métiers
Presentation of the professions in the sector by professionals.
CROSS-CUTTING AND FUNDAMENTAL COURSES
International accounting
The objective is to acquire key skills in terms of budget management and reporting. The focus will be on budget architecture, with the implementation of summary documents, project management control and its link with budget management, and the creation and steering of performance indicators.
Business Plan et Création d'entreprise
The objective of this module is to learn how to draw up a business plan: Designing a costed project for the creation or development of a company.
Several steps are covered: feasibility study, market targeting, opportunities and risks, strengths and weaknesses, communication, financing plan and profitability.
Company strategy
A precise methodology for analyzing customer needs, market structure and competitor dynamics to identify opportunities and threats in the environment is presented.
Négociation
This seminar focuses on a negotiation in a national and international context.
In particular, it will be necessary to take into account the cultural dimension and define its impact in an international negotiation. The national negotiation will focus on the sales process through role playing.
Business english / TOEIC
To perfect English language comprehension and communication skills in a wider context than just business English. Students are required to take the TOEIC test.
Informatique de Gestion
This module aims to deepen students' skills in IT to meet the needs of companies in terms of budgetary or commercial monitoring, project management, personnel management and communication: Excel, Word, Powerpoint, teamwork tools, business software.
It aims to be efficient with office automation tools, identify and correct errors quickly, customize existing tools or create your own tools.
Business Skills
What makes a successful business person?
Internal and external communication skill; managing your priorities and deadlines; organization and time management skills; how to be a great listener, writer and speaker; effective sales techniques; effective group dynamics and project management skills; understanding international business culture.
SPECIALIZED COURSES
B2C marketing
This course aims to illustrate the existing links between economics and marketing (maslow/schwartz/rokeach/murray). The following fundamental concepts in btoc marketing will be presented: purchasing patterns; the role of key players; segmentation; analyzing the supply; studying the demand; cultural behavior patterns; company response and strategy.
International marketing
Based on a case-study approach, this course will review classic and web-based marketing strategies, focusing on the international challenges facing today's global corporations. Students will study – among other approaches – some or all of the following strategic models: blue ocean strategy; megatrends and the emergence of metamarkets; market specialty as differentiation; customer-led business.
Digital marketing
This module aims at mastering the tools specific to marketing and communication on the Internet, through case studies, by addressing mainly: – the latest trends in e-commerce (m-commerce/f-commerce…).
the integration of web 2.0 in marketing strategies.
presentation and mastery of web analytics tools.
the development of a marketing and sales strategy on the various social media.
International trade
An introduction to the terminology, basics and initial concepts of international trade. This course provides the students with tools enabling them to think strategically in a global environment.
Global geopolitical and international relations
This seminar explores the role of international business and politics and their impact on global current events. From china to the middle east, and from the united states to europe, this course embraces such key factors as oil, terrorism, religion, demographics and ecology.
Brand strategies
By using various examples of leading international groups (lvmh, ppr…), this seminar introduces brand portfolio extensions: premium brand positioning and the marketing and communication strategies involved: new product introductions; pricing strategies; consumer perception; brand equity. This course will also explain the effect that such extensions have on a brand and the financial impact on the group.
Marketing tools & applications in luxury and fashion industries
An initial perspective on management tools such as market
Research, demand forecasting, crm and consumer tracking
Techniques, and how these are used in the luxury business.
Traditional & new communications strategies
An overview of existing and new communications tools such as web marketing and social media, and their application to traditional luxury brands. How to manage new techniques in this fast-moving area.
Les cours de 2ème année
PROFESSIONAL METHODS AND PRACTICES – 2ND YEAR
Outils de gestion informatisée
Software (Excel, Word, VBA, professional software).
Conférences métiers
Presentation of the professions in the sector by professionals.
MANAGEMENT
International strategic management
Business is growing faster and more complex. International managers need a framework in order to develop clear and effective strategies in the area of marketing, management, operations, finance and human resources strategies.
Financial management and strategic planning
Topics include financial planning and budgeting; cost controls; mergers and acquisitions strategy; brand equity and return on capital employed; and, corporate planning and the business cycle.
Legal issus & intellectual property
The objective of the course consists in allowing students to understand and deal with main legal issues which will necessarily occur in their future career in the field of brand marketing and management. The course will thus focus on the main principles applicable to brands' activities, but also on the way to develop and protect a brand within any market.
BRAND MANAGEMENT
Leading brand and company strategies
The high-tech market. How to innovate and adapt products to consumer demand.
Topics include developing an international strategic plan; brand portfolio planning in international groups; growth strategies in mature and emerging markets; managing international distribution partnerships; and the role of the independent family-owned business.
Consumer behavior
This course investigates the dynamics of human behavior and how it relates to decision-making. It concentrates on the most important factors that influence the consumer's decision-making process. These include, at the individual level, motivation, personality traits and the self-concept, values and lifestyles, as well as psychological processes at the social and cultural level. These include group membership, social classes and subcultures.
Market research
This course presents the basic theory, tools and actual examples of techniques used in market research. How research can be used to help make informed strategy as well as marketing decisions to help create opportunities and solve real business problems. How to introduce products into different geographic areas is also discussed.
Undercover marketing
Discover alternative marketing strategies to traditional advertising (undercover marketing /stealth marketing) understand applications and kpi. Case usage for brands build undercover marketing plan.
Brand management
Topics include understanding the role of brands, the concept of brand equity and the advantages of creating strong brands; exploring the brand equity concept; identifying and establishing an effective brand positioning; using the customer based brand equity framework; examining main ways of building brand equity with a specific emphasis on brand elements and new perspectives on marketing; grasp branding strategies; and conduct a brand audit project in an international context.
International marketing
Topics include understanding consumer and organizational purchasing behavior; market segmentation; market share, distribution systems; marketing mix and development of marketing strategies; strategic aspects of the marketing function including channels of distribution, retail improvement, pricing; and new product launching.
Discover and understand the specificities of marketing management in different business areas: b2b, services, hospitality, non profit organizations. Develop marketing and brand management skills and carry out a marketing planning process in various sectors in an international context.
Merchandising
Topics include: consumer behavior as the keystone to brand strategy; quantitative analysis relating to product placement; optimization, value, reasons to set up, product range; and, software tools for merchandising.
DGITAL AND COMMUNICATION
Communication strategies in a global environment
Topics include examining communication strategies and consumer targeting; luxury advertising and public relations programs; sponsorship and celebrity endorsement strategies; and, managing international exclusivity and brand image.
International advertising
Topics include sales promotion and advertisement; advertising decisions; and, an overview of all the methods used by marketing communication professionals. Case studies.
Digital marketing
This course provides an overview of e-marketing, with a major focus on the world wide web and multimedia. It evaluates evolving marketing techniques and promotional technologies, and finds ways to integrate them into an effective communication strategy.
Furthermore, emerging media channels are analyzed to predict future trends.
Team projects in class emphasize current trends and propose an outlook into the new marketing landscape.
Crm & client database management
The course approaches its subject matter from a relational viewpoint.
That is, it emphasizes learning more about customers' needs and behaviors in order to develop stronger relationships with them, using technology and integrating information about consumers, sales, marketing, responsiveness, and luxury market trends.
Students will learn how to use crm technology to gain insight into customers and understand the critical value customers possess.
On completing the course, they will understand the importance of using crm software to create, track, and manage partnerships, contracts, and agreements; and to monitor distribution management.
KEY SECTORS
Management of luxury products and brands
The course concentrates on aspects of brand management in the luxury domain including the marketing mix, pricing policies and the analysis of product offer including brand extensions and co-branded products. The role of design and innovation will also be examined as well as the special techniques required for launching a new luxury product. Students will learn to apply the principles of luxury product development to a sector of their choice.
Travel and tourism marketing
Topics include: how innovation is transforming bespoke tourism; success strategies, trends and developments; insights into the business of private jets, personalized itineraries and signature destinations.
International fashion marketing
Topics include: understand the principles which govern marketing activities in global environment; managing creativity and innovation; existing and emerging markets for fashion goods; and, international market entry, product launches, marketing strategies and promotions in fashion sector.
Food & wine marketing
This course introduces product life cycles and new product development: developing line extensions; visual merchandising and promotional materials; brand identity and visual design in packaging development; and, tasting sessions, field trips and visits by leading chefs.
Event & sport marketing
Topics include attaining deeper knowledge in a real world event management situations and the five stages of event management (research, design, planning, coordination, and evaluation);
Understanding how to manage time and human resources effectively;
Having insight into hiring vendors, caterers, sound and light technicians; entertainment, and other resources;
Learning how to conduct an event site inspection; being knowledgeable about risk-management procedures and tactics;
Learning about the requirements for necessary contracts, permits, and licenses, and how to meet these requirements and understand budgeting, pricing, and accounting as they relate to event design.
Students will also study: understanding sports industry, players and opportunities; designing and controlling events logistics; providing hospitality at events; negotiations and contracts; and event marketing.
---
2 start dates per year and varying study rhythms
There are two openings per year, in February/March and September/October. To check the opening of each intake, contact the admissions department directly.
The pace of the course may differ from campus to campus and depending on whether the course is carried out under an internship agreement (initial) or a professionalization/apprenticeship contract (continuing).
The work-study contract must be signed for a period of 12 months (MSc 2), 24 months (MSc1 + MSc 2) or 18 months for the staggered start of March (continuation of studies in MSc2).
Career opportunities after an MBA Marketing and Brand Management
Marketing Director
Brand Director
Marketing Manager
Product/range marketing manager
Client Manager
Marketing Manager
Marketing Project Manager
Brand Manager
Product Manager
International Product Manager
Market Manager
Marketing Consultant
Research Manager
Marketing business manager
What business skills are developed?
Determine the marketing strategy and propose an innovative offer
Define and implement the business development plan
Manage and implement communication and digital marketing actions
Manage a marketing and sales team
Implementation and management of the marketing and management strategy in the luxury and fashion sector
This program delivers the professional certification of " Marketing and Business Strategy Manager " level 7 (EU), NSF code 312, delivered by Inseec MSc&MBA (CEESO, CEERA, CEFAS, MBA INSTITUTE), registered under number 34806 in the RNCP (National Directory of Professional Certifications).
For more details, please consult the online repository: https: //www.francecompetences.fr/recherche/rncp/34806
The certification is issued by capitalization of the totality of the blocks of competences. Each competency of a block must be validated to validate the block of competencies. Partial validation of a block is not possible.
The VAE
This certification is accessible through the Validation of Acquired Experience.
The Validation of Acquired Experience (VAE) – INSEEC
What are the teaching methods?
Teaching methods
Lectures and interactive courses
Situational exercises through collective or individual case studies carried out by the students
Conferences, seminars and educational visits
Evaluation methods
Individual or group case studies
Individual and group oral presentations
Individual and group files
Methods and tools
The evaluation methods are face-to-face, in the form of continuous assessment or final exams in the form of mid-term exams.
Disability
The OMNES Education Group pays particular attention to the societal environment, including the disability dimension. Indeed, we believe that students with disabilities should not have any problems in pursuing their studies and starting a professional career. We accompany them to facilitate their access to the premises, offer them personalized advice as well as adapted accommodations throughout their school career.

Accessibility of premises: all our campuses are accessible to people with disabilities.
To learn more about the OMNES Education Group's disability policy, click here.

Contacts for disability referents by campus:
Bordeaux : Anne-Sophie SCHENKELS – asschenkels@inseec.com
Lyon : Mylène BESTOSO – mbestoso@inseec.com
Paris : Priscila SELVA – pselva@inseec.com
Chambéry : Clément BERTACCO – cbertacco@inseec.com

What is the 2022/2023 tuition to enter the program?
Initial training:
Entry in MSc1 : 10 950 €.
MSc1 + MSc2: 21 400 €.
Direct entry in MSc2 : 12 250 €.
Continuing education (sandwich course) :
Training 24 months : 23 100 € HT
Direct entry in MSc2 : 12 750 € HT
VAE/VAP :
VAE : 4 200 € HT
VAP : 850 € HT
International Student Pack: Mandatory fee of 490€ for exclusive support services for international students.
What kind of financial aid is available?
INSEEC offers several financial aid schemes:
les chiffres clés de la formation en MBA Marketing and Brand Management
91%
Taux de satisfaction global par rapport à la formation – Promo 2019
99%
Taux de réussite – Promo 2019
73%
Taux d'employabilité – Promo 2019
73%
Taux de CDI à 6 mois – Promo 2019
Updated 30 August 2022