The MSc & MBA have only one goal: to boost the employability of their students. All means are good for this: work-study, specialized and professional training, professional speakers, job dating, afterworks, case studies, expert conferences, etc.
Professionalization and employability at the heart of the INSEEC MSc & MBA program
To be professional and employable at the end of your Master of Science or 2nd year MBA, this is the main objective of our MSc & MBA program.
The first professional experiences are vital to familiarize oneself with the world of work and to build one's professional CV. Even before starting their studies, INSEEC MSc & MBA students are strongly encouraged to find a company to to carry out his training in alternating rhythm . The alternating school/company program will allow the student to put into practice everything he/she has learned in class.
An innovative and professionalizing teaching method
Because our society and economy are changing rapidly, so are our courses. Our courses are developed with professional lecturers who are experts in their fields and are as close as possible to the problems of companies.
Through role-playing, challenges, red thread projects, and case studies, students develop technical and behavioral skills (agility, adaptation, ability to work in teams).
All these professional skills acquired during the training allow our students to be directly operational and employable at the end of their studies.
Interview de Nikki Papadopoulo, Directrice des Etudes
Work-study programs in MSc&MBA
The school/enterprise alternation is at the heart of our pedagogical model and can be carried out under different contracts:
fixed-term contract
permanent contract
interim contract
civic service
creation of a company (possibility to join one of the INCUBators of our schools)
internship agreement
Our schools offer 4 training rhythms, which vary according to the campus and the training: 3 days/2 days, 1 week/3 weeks, 1 week/2 weeks, accounting calendar. Students can test and apply all their acquired skills directly.
Real immersion in a company, the work-study program allows you to gain professional experience quickly and boost your employability.
All our training courses are certified by France Compétences and deliver a level 7 RNCP professional title.
Alternance et accompagnement
Table ronde d'experts, étudiants et chefs d'entreprise autour de l'alternance
Un enseignement professionnalisant
Interview de Louise
en alternance et MSc Fashion
Professional integration
Helping our students and young graduates find their first work-study, internship or job is the main mission of the Corporate Relations & Employability Department (SREA) present on each INSEEC campus.
For this, all means are good: organization of job dating, afterworks, professional conferences, individualized coaching… Discover in more detail on our pages the actions carried out by our services to accompany our students and alumni in their search for a company.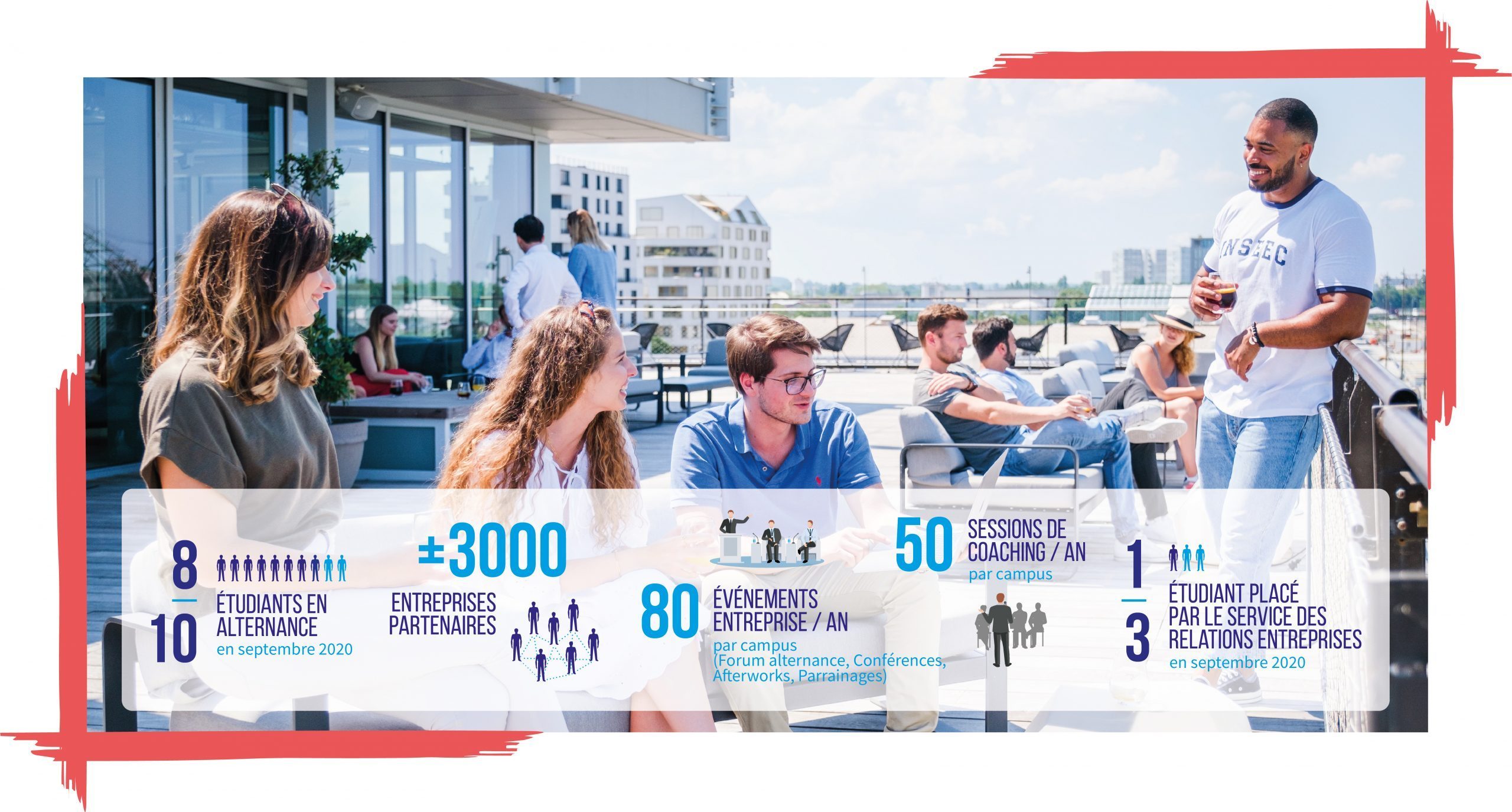 A specialized MSc & MBA in 1 or 2 years
Depending on your level of study, you can apply for the first year of the MSc&MBA program (holders of a BAC+3) or directly for the second year (holders of a BAC+4).
More information on the admission procedure for MSc & MBA at INSEEC.
Our courses are specialized from the first year onwards, allowing you to acquire specialized skills in your chosen area of specialization.
INSEEC's 40 specialized MSc & MBA programs are divided into 10 areas of expertise:
What are the courses offered by INSEEC MSc & MBA?
To help you in your choice of specialization, do not hesitate to consult the job opportunities page, with a presentation of job descriptions.
International
Our globalized economy now requires us to include an international component to all our training. Thus:
a large part of our courses are taught in 50% or 100% English
in addition to the English LV1 courses, many courses are taught in English by Anglo-Saxon professionals
we welcome many international students, which allows us to work in a multicultural team during our studies
the possibility of doing an internship abroad
Financing of studies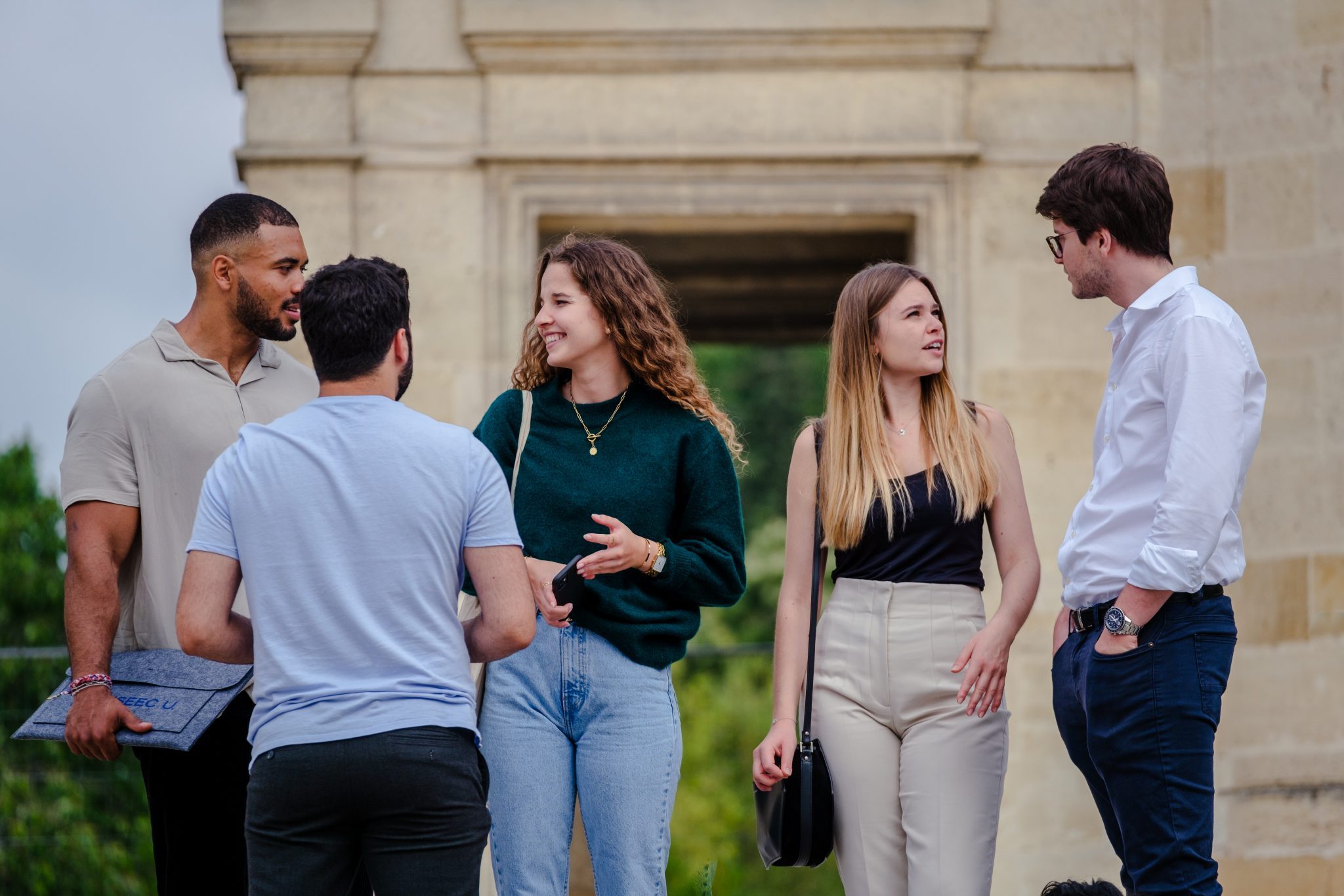 Our training rates vary according to the type of program (French/English speaking) and the pace of study (initial training or sandwich course). They are presented in detail on all our training pages.
Several payment methods are available(cash payment, instalment payment).
The amounts indicated are applicable to new students who will begin their studies in 2022.
For more information, please go directly to our page dedicated to the financing of studies.
Updated 1 August 2023