The MSc 2 Purchasing and Supply Chain Management course (French/English)
As its name indicates, this MSc2 offers training to students whose professional project is to join the purchasing and supply chain departments of a company, in operational as well as managerial and strategic functions.
This program offers a set of specialized and technical courses that lead the participants to a real expertise in the field with an international dimension.
All the professional contributors provide tangible added value, reinforcing the professional character of this MSc2. At the same time, students are made aware of team management and leadership, which prepares them for future managerial functions.
A diploma in 1 or 2 years to become an expert in purchasing and logistics management
Holders of a BAC+3 can apply for thefirstyear of the MSc, and holders of a BAC+4 can apply directly for the second year.
The International Purchasing and Logistics program addresses issues related to purchasing and sourcing, the main management trends and supply chain policies. It integrates approaches based on low cost country sourcing, Supplier Relationship Management (SRM), sectoral and responsible purchasing, logistics flow management, volatility of raw materials and currencies, and low cost country sourcing. All these elements will be measured in order to impact the performance of companies.
The course prepares students for positions as purchasing managers, international buyers, supply chain managers and logisticians, both in SMEs and large international groups.
Young graduates will be able to work in the industrial, consumer goods and service sectors, as well as in new growth areas such as sustainable development and renewable energy.
Would you like to know more about the MSc 2 Purchasing and Supply Chain Management programme?
Sign up for an Open House!
The Courses
The courses listed below are examples only and may vary slightly depending on the campus. The content of the courses is adapted each year to market developments and is updated before the start of each new school year.
Les cours de 1ère année
PROFESSIONAL METHODS AND PRACTICES – 1ST YEAR
Business Game
The business game is played using a business simulator. Groups of students are responsible for running a business in real time. All major business functions are covered. Students will make decisions to maximize the profitability of the business.
Ateliers techniques professionnels et Management Personnel
CV writing, recruitment interview techniques for the search for an internship, professional project management, team management and meeting management.
Negotiation techniques, transactional analysis and NLP, speaking and stage fright management, management and leadership techniques (PRADITUS).
Skills assessment, coaching, digitization of the CV and job search techniques at national and international level, preparation for the defence of the applied research thesis.
Conférences Métiers
Presentation of the professions in the sector by professionals.
CROSS-CUTTING AND FUNDAMENTAL COURSES
Gestion budgétaire et tableaux de bord
The objective is to acquire key skills in terms of budget management and reporting. The focus will be on budget architecture, with the implementation of summary documents, project management control and its link with budget management, and the creation and steering of performance indicators.
Business Plan et Création d'entreprise
The objective of this module is to learn how to draw up a business plan: Designing a costed project for the creation or development of a company.
Several steps are covered: feasibility study, market targeting, opportunities and risks, strengths and weaknesses, communication, financing plan and profitability.
Stratégie d'entreprise
A precise methodology for analyzing customer needs, market structure and competitor dynamics to identify opportunities and threats in the environment is presented.
Négociation
This seminar focuses on a negotiation in a national and international context.
In particular, it will be necessary to take into account the cultural dimension and define its impact in an international negotiation. The national negotiation will focus on the sales process through role playing.
Anglais
To perfect English language comprehension and communication skills in a wider context than just business English. Students are required to take the TOEIC test.
Informatique de Gestion
This module aims to deepen students' skills in IT to meet the needs of companies in terms of budgetary or commercial monitoring, project management, personnel management and communication: Excel, Word, Powerpoint, teamwork tools, business software.
It aims to be efficient with office automation tools, identify and correct errors quickly, customize existing tools or create your own tools.
Business game
The business game is played using a business simulator. Groups of students are responsible for running a business in real time. All major business functions are covered. Students will make decisions to maximize the profitability of the business.
Business Skills
What makes a successful business person?
Internal and external communication skill; managing your priorities and deadlines; organization and time management skills; how to be a great listener, writer and speaker; effective sales techniques; effective group dynamics and project management skills; understanding international business culture.
SPECIALIZED COURSES
International purchasing and supply chain logistics 
This module is designed for current and future procurement professionals and reflects the levels of understanding and competence required to manage procurement at an international level. The following elements will be studied and analyzed through real case studies.
Management de projet logistique 
This module covers the fundamental elements for the elaboration of the company's logistics strategy, the identification of the different stages of a logistics project and the implementation of a project management approach. The design of optimization schemes for logistics activities will be addressed as well as the definition of work organization modes taking into account the prevention of occupational risks and the measurement of performance.
Process et outils de la fonction achat 
This course focuses on the development of the purchasing process as well as the mastery of the main tools necessary for the optimization of the supply chain. Presentation and experimentation of negotiation techniques (means, deadlines, subcontracting) with employees, suppliers and service providers. A focus will also be made on the analysis of the purchase request and the drafting of specifications. Finally, the different forms of tendering will be discussed as well as the standards and procedures related to purchasing techniques.
Digitalisation des achats et supply chain 
The digitalization of processes, in particular due to the rise of e-commerce and the urbanization of the population, is leading organizations to a so-called urban logistics. This new challenge in supply chain management is thus becoming a new criterion for customer acquisition and loyalty. In this module, we will discuss the delivery solutions of tomorrow, uberization and collaborative delivery. The focus will also be on sustainable development and the green supply chain.
Performance financière et fonction achat 
An employee working in purchasing and logistics must be able to present results, inform his or her superiors and colleagues, and also make recommendations. This module allows the future employee to analyze the dashboards of follow-up of the markets and the past results, to measure the consequences on the WCR and finally to optimize the costs of purchase in order to improve the profitability of its organization.
Analyse du risque et fonction achat 
This module will focus on risk analysis related to the purchasing function as well as supplier risk management. Students will be able to implement a risk management strategy. They will also learn how to carry out an analysis of the purchasing portfolio and map supplier opportunities and risks, including supply chain risks (supply disruption, supplier bankruptcy, double sourcing, supplier scoring, dependency rate, etc.).
Lean manufacturing et gestion des flux de production 
Production and flow management is a major element for all companies. Lean manufacturing consists of applying lean management techniques to production flow management activities. This module allows students to identify and eliminate all non-value added activities, to manufacture only what will be sold and to move from a real demand driven flow to a just-in-time production system.
Pratiques des achats à l'international 
This course aims to present the evolution of the purchasing function, towards a now strategic role in organizations, in an international perspective. This module also enables you to master the main practices of this function: analysis of the purchasing portfolio, upstream market research, sourcing, calls for tender, full cost analysis, performance management.
 
Management de la qualite appliqué 
This course aims to introduce the principles of quality management and its main approaches and tools. The aim is to understand all the directives of the quality policy and the quality objectives in a perspective of continuous improvement. At the end of this course, the learner will be able to understand all the dimensions of a company's quality management system (QMS) and apply it to their needs.
Droit des affaires et du commerce international 
This module enables learners to master the important stages of a contract from formation to execution and termination. It aims to understand the importance of inserting specific clauses according to the contractual risks. But also to apprehend the elements of contractual strategy within the framework of a purchasing approach.
Les cours de 2ème année
PROFESSIONAL METHODS AND PRACTICES – 2ND YEAR
Ateliers techniques professionnels et management personnel
CV writing, recruitment interview techniques for the search for an internship, professional project management, team management and meeting management.
Negotiation techniques, transactional analysis and NLP, speaking and stage fright management, management and leadership techniques (PRADITUS)
Skills assessment, coaching, digitization of the CV and job search techniques at national and international level, preparation for the defence of the applied research thesis.
LinkedIn workshops.
MANAGEMENT MANAGEMENT
Direction et stratégie d'entreprise
Strategy has a very important place in the performance of any company (VSE, SME or large company). This is why this module will expose the different possible strategies for a company (business, corporate, etc.). Learners will diagnose the business environment, diagnose competitive capabilities and analyze the company's identity, organization and resources to position it for profitable and sustainable growth. They will also need to identify and implement competitive advantages.
 Gestion budgétaire et tableaux de bord 
The purpose of this module is to master the main stages of budget construction and its monitoring. It will provide learners with the knowledge necessary to develop management dashboards (standard and prospective models). At the end of this course, the learner should be able to understand the annual budget construction of a company from the strategic vision to the implementation of the follow-up. A focus on the objectives and operating methods of management control will be carried out as well as on the structure of the company (legal and organization by department).
 Financial analysis for supply chain 
If you bring together finance and supply chain operations can make your company more operationally and improve financial efficiency. You will learn to expose potential risks and to enable executable plans. Also to drive sustainable cost reduction and profitable growth through more optimized planning models.
 International business law 
The objective of this course is to introduce businessman to the basic international business structures under which most companies carry on business in the modern world. A businessman needs to understand what international transactions and international contracts entail. At the end of this class, the learner will be able to understand what an international business transaction entails, to gain an understanding of international contracts, to know the buyer and the seller's obligations under the 1980 Vienna Convention and finally to deal with a cross border commercial dispute involving various companies based in several countries.
GENERAL PURCHASING AND PROCESSES
Les Fondamentaux des Achats 
The aim of this module is to give learners the basics of a buyer's job by introducing them to the purchasing function and its importance within the company. He will train them in the major purchasing processes (management of a purchasing portfolio, definition of requirements, calls for tender, comparison of offers, etc.). During this course, the learner will acquire the necessary knowledge to be able to formalize a need in the most explicit way possible, to have the bases in negotiation and to understand the problems of cost, quality and deadline (but also all that is attached to it) in the daily follow-up of the suppliers.
RSE et Achats Responsables 
Corporate Social Responsibility (CSR) refers to the consideration by companies, on a voluntary basis, of social and ethical issues in their activities. The objective of this module is to make learners aware of the socio-environmental issues that some suppliers face in their sector/country. At the end of this course, the learner must be able to analyze the seriousness of the responsible purchasing policy of companies, to know the tools of piloting a responsible purchasing approach and to detect non-conformities in order to propose an action/improvement plan.
 Purchasing Strategies 
Globalization – today's market realities compel medium and large size corporations to expand internationally in order to meet the growth demanded by investors.
The aim of this module is to provide learners with the necessary knowledge to be able to select and use the main purchasing tools and to be integrated into a purchasing department. Several topics will be covered in this module, such as purchasing tools (cost analysis and price breakdown, Pareto, ABC method, etc.), risk management and supplier management and finally the fundamentals of a purchasing department (key functions and contacts, key performance indicators, etc.). A case study will allow learners to put into practice what they have learned.
 International purchasing 
The objectives of this class are to make understand context and issues of international purchasing by acquiring knowledge and methods to maximize value of purchase contracts with international suppliers. At the end of the class, students will be able to be aware of how international context of purchasing influences the strategy, to know which tools to use to minimize risks and to analyze collaboration opportunities and demonstrate how value can be maximized. During this course, a focus will be realized on the globalization of the purchasing function and on the international supply and supplier development.
 International negotiation 
This module aims to improve participants' negotiation skills without changing their personal style. They will learn to master each strategy (from win/win to lose/lose) and an effective negotiation process with a view to long-term performance. They will be able to achieve their negotiation objectives without damaging the quality of the relationship between the stakeholders by analysing the situation (SWOT), choosing a negotiation strategy adapted to the situation and knowing how to adapt to the culture of the other (intercultural) to increase their power of conviction.
Achats industriels et marketing achats 
Understand the basic concepts of international sales strategies (licensing, exports etc.)
The understanding of shopper marketing is essential for learners to be able to apply it in their future professional lives. This module provides the necessary knowledge to train future buyers and future supply chain managers in the specificities of the different commodities of production purchasing. The course will detail the principles of marketing-purchasing by addressing in particular segmentation, management of a purchasing family, strategies, action plans, sourcing capacity, production purchasing or subcontracting assembly and labor.
Digitalisation des achats 
The information system is decisive for the efficient management of the supply and logistics chain. Companies use integrated software packages to manage their resources (ERP). E-sourcing has become an essential part of a company's global purchasing process. Definition and implementation of e-sourcing strategy in large industrial groups. Implementation of reverse auctions and specifications.
 Concrétisation des politiques Achat & Logistique 
Students will have the opportunity to visit the site and apply their acquired skills to a real-life case study.
SECTOR PURCHASES
Achats des matières premières et des matières spéculatives 
The aim of this module is to help learners understand the international mechanisms behind commodity price fluctuations and speculative materials. At the end of this course, the learner should be able to set up and manage a purchasing strategy for products affected by these types of fluctuations. A focus will be made on the setting and regulation of commodity prices as well as on speculative purchases (supply, demand, transaction, grouping, purchase, price, etc.).
 Achats de prestations intellectuelles, services et frais généraux 
This module will present the characteristics of the purchase of intellectual services, services and general expenses. Learners will discover techniques to manage the portfolio, risks and opportunities for these categories and understand the differences with the standard procurement process. At the end of this course, the learner should be able to make a purchase of services and / or intellectual services taking into account the risks and their opportunities. Learners will be able to develop their future skills through a real-life case study.
Achats appliqués à la grande distribution 
For many years, the retail industry has been prescribing its laws in terms of private label policy and product strategies in the purchasing world. Knowing its expectations, its operating principles and its methodology are the objectives of this course. At the end of this module, the learner must be able to identify the different purchasing strategies linked to global sourcing, to the supplier policy to be built, to the Supply Chain Management within the framework of the implementation of the full cost.
LOGISTICS
Logistics and international trade 
An overview of international transport issues and principles, including freight by air, sea and land. The course will highlight international conventions, freight calculation and logistical risks. Insurance policies will be covered, including claims and compensation procedures. In addition, an analysis of international shipping documentation, customs formalities and payment methods.
 Logistique Industrielle 
Mastery of approaches to modelling and solving industrial logistics problems (production, distribution and inventory management planning) is an essential part of this training. Participants will learn techniques for using quantitative methods of demand forecasting to solve certain logistical or industrial problems (allocation, balancing, scheduling). They will then be able to analyze a logistic problem, understand its objectives, constraints and data in order to model it and use the Excel solver to solve it.
Gestion de la production et pilotage de la chaîne logistique 
The objective of this module is to understand the fundamentals of supply chain optimization and monitoring. Knowledge of the functions of Supply Chain Management and its role in an organization is a key element of this training. Learners will discover different fields such as automotive (reduce surface area, rationalize, etc.), BtoB distribution (differentiate, improve service quality, etc.) or retail (control distant supplies, customs, etc.). Several topics will be covered during this course such as stocks, logistics operations, transport, customs and international.
 Gestion des stocks 
This module will combine the theory and practice of inventory management in a company. It will provide the key elements of quantitative inventory management so that learners will be able to determine the amount of inventory needed to achieve the desired service/availability rate and then know the quantity of products or components to order (purchase to minimize both inventory carrying cost and ordering cost). Learners will also study ordering systems, i.e. when to place an order and how to evaluate inventory management.
PROJECTS, INTERNSHIPS AND CAREER PATHS
COMPANY PROJECT: resolution of a company case or a professional application giving rise to a defense in front of the company and the educational team
---
2 start dates per year and varying study rhythms
There are two openings per year, in February/March and September/October. To check the opening of each intake, contact the admissions department directly.
The pace of the course may differ from campus to campus and depending on whether the course is carried out under an internship agreement (initial) or a professionalization/apprenticeship contract (continuing).
The work-study contract must be signed for a period of 12 months (MSc 2), 24 months (MSc1 + MSc 2) or 18 months for the staggered start of March (continuation of studies in MSc2).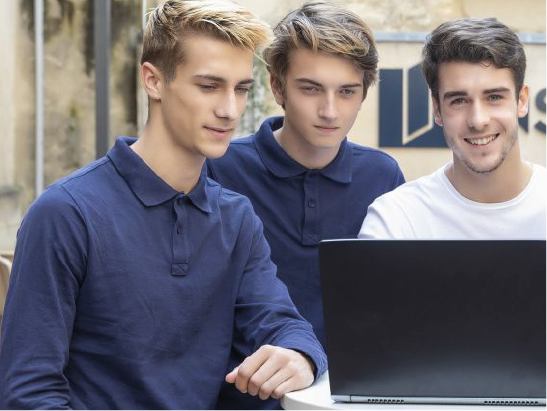 Career opportunities after an MSc 2 Purchasing and Supply Chain Management
Purchasing Manager
Import-export manager
International buyer
Supply chain manager
Logistician
What business skills are developed?
Define the purchasing and logistics policy in line with the company's strategy
Conducting the various stages of the purchasing process
Managing logistics processes
Managing the performance of the Purchasing and Logistics activity
This program leads to the title of "Purchasing and Logistics Manager" – RNCP Level 7 – File n° 35441
The certification is obtained by capitalisation of all the blocks of skills.
Pour plus de détails, veuillez consulter le référentiel en ligne : https://www.francecompetences.fr/recherche/rncp/35441
What are the teaching methods?
Teaching methods
Lectures and interactive courses
Situational exercises through collective or individual case studies carried out by the students
Conferences, seminars and educational visits
Evaluation methods
Individual or group case studies
Individual and group oral presentations
Individual and group files
Methods and tools
The evaluation methods are face-to-face, in the form of continuous assessment or final exams in the form of mid-term exams.
What is the 2022/2023 tuition to enter the program?
Initial training:
Entry in MSc1 : 10 950 €.
Entry into MSc 2 after M1: 10 450 €.
Direct entry in MSc2 : 12 250 €.
Continuing education (sandwich course) :
Training 24 months : 23 100 € HT
Direct entry in MSc2 : 12 750 € HT
VAE/VAP :
VAE : 4 200€ HT
VAP : 850 € HT
International package: 490€.
What kind of financial aid is available?
INSEEC offers several financial aid schemes:
les chiffres clés de la formation en MSc 2 Achats and Supply Chain Management
90%
Taux de satisfaction global par rapport à la formation – Promo 2019
95%
Taux de réussite – Promo 2019
87%
Taux d'employabilité – Promo 2019
81 %
Taux de CDI à 6 mois – Promo 2019  
Disability
The OMNES Education Group pays particular attention to the societal environment, including the disability dimension. Indeed, we believe that students with disabilities should not have any problems in pursuing their studies and starting a professional career. We accompany them to facilitate their access to the premises, offer them personalized advice as well as adapted accommodations throughout their school career.

Accessibility of premises: all our campuses are accessible to people with disabilities.
To learn more about the OMNES Education Group's disability policy, click here.

Contacts for disability referents by campus:
Bordeaux : Anne-Sophie SCHENKELS – asschenkels@inseec.com
Lyon : Mylène BESTOSO – mbestoso@inseec.com
Paris : Priscila SELVA – pselva@inseec.com
Chambéry : Géraldine RIVAL – grival@inseec.com
Updated 24 May 2023