Des opportunités nombreuses pour les doubles profils Marketing et Commercial
Jean-Marc Peremarti
directeur de programme
The Financial Markets and Trading course meets the expectations of recruiters looking for expert profiles in the digital transformation of banks
"This program prepares you to become experts in the fields of asset management, trading and risk management: Equity Analyst, Fund Manager, Oil Trader, Sales, International Treasurer, RCCI and Middle Officer are some examples of positions held by our alumni.
The teaching is resolutely quantitative (computational, statistical and digital), and covers the foundation of modern finance but also the latest developments: FinTech, Smart Contracts, Big Data, stochastic simulations, fractals, behavioral finance, Excel and VBA and the R language.
Students are made aware of innovative techniques and are regularly put into practice on the basis of real cases, thanks in particular to the presence of a Bloomberg trading room within the school.
With over 15 years of experience, this program has a network of over 500 alumni.
Passing the AMF (Autorité des Marchés Financiers) certification is scheduled during the program, and further development on the Bloomberg tool continues after validation of the level certification, the BMC, Bloomberg Market Concepts, in MSc1."
Ellen Kountz, Program Director – Paris Campus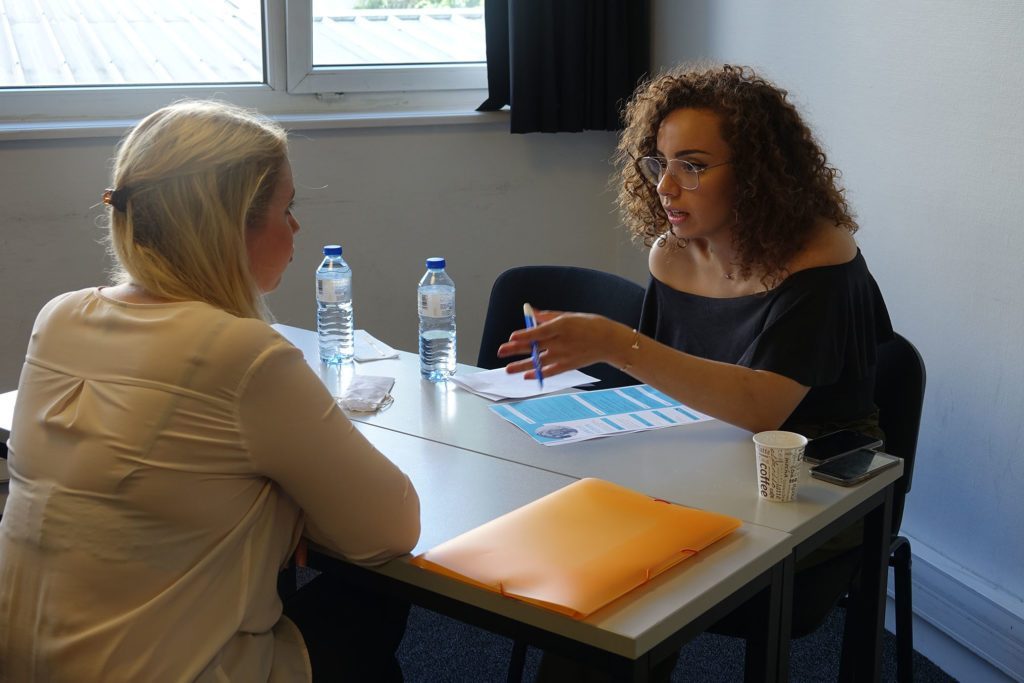 A 1 or 2 year degree to become an expert in asset management, trading and risk management
Les titulaires d'un BAC+ 3 peuvent candidater en MSc 1re année, les titulaires d'un BAC+4 directement en MSc 2ème année.
This training, in 1 or 2 years, has for objectives:
After learning about the mechanisms of the markets, apply the characteristics of securities such as: stocks, bonds, foreign exchange, commodities
Taking into account the structure of interest rates and money market conditions, be able to neutralize financial risks based on a good knowledge of derivatives
Behavioural finance and related subjects: explaining price fluctuations by the behaviour of individuals who are not always rational, psychology applied to finance. Use this concept to analyze the reaction of other investors and choose which securities to buy
Continue and expand e-learning courses in French and/or English on specialized tools and terminals for financial market operators
Want to know more about the MSc in Financial Markets, Trading program?
Sign up for an Open House!
The Courses
The courses presented below are given as an example, they may vary slightly depending on the teaching campus. The course content is adapted each year to market developments and updated before the start of each new school year.
Les cours de 1ère année
PROFESSIONAL METHODS AND PRACTICES – 1ST YEAR
Fundamentals of Capital Markets
Corporate Accounting
Contract and Business Law
Financial mathematics
Introduction to Technical Analysis
Excel
Big Data in the banking environment
Taxation, wealth and investments
Portfolio management
Real estate and asset management
Credit analysis
Financial risk management in the bank
Monetary policy and bank balance sheet management
Finance tools and model
Les cours de 2ème année
PROFESSIONAL METHODS AND PRACTICES– 2ND YEAR
VBA and statistical tools
Portfolio management of financial assets
Behavioural Finance
Mandatory contracts
Financial engineering and venture capital
Foreign exchange risk management
Commodity trading
Risk management and regulation
Bloomberg – advanced
Derivative products
Options Trading Strategy
Quantitative technical analysis
Advanced pricing for exotics
Structured derivatives: equity
Forecasting strategies & techniques
---
2 start dates per year and varying study rhythms
There are two openings per year,in February/March and September/October. To check the opening of each intake, contact the admissions department directly.
The rhythm of the courses may differ depending on the campus and whether the training is carried out under an internship agreement (initial) or a professionalization/apprenticeship contract (continuing).
The work-study contract must be signed for a period of 12 months (MSc 2), 24 months (MSc1 + MSc 2) or 18 months for the staggered start of March (continuation of studies in MSc2).
Career opportunities after an MSc in Financial Markets & Trading
Buy-side – sell-side analyst
Risk Analyst
Financial Analyst
Private Wealth Advisor
Account Manager
Partner Relations Officer
Real estate expert
What business skills are developed?
The objectives in terms of skills are to be able to:
Analysis of strategic company data
Control and management of the company's activity
To ensure the sustainability of the company's activity
Issuance of financial recommendations and control of communication
This program delivers the title of "Expert in Financial Analysis" level 7 (EU) registered in the RNCP (National Directory of Professional Certifications) under the code NSF 313 and 314.
The certification is obtained by capitalisation of all the blocks of skills.
For more details, please consult the online repository: https: //www.certificationprofessionnelle.fr/recherche/rncp/35007
What is the 2022/2023 tuition to enter the program?
Initial training:
Entry in MSc1 : 9 950 €.
Entry in MSc 2 after M1: 10 050 €.
Direct entry in MSc2 : 11 450 €.
Continuing education (sandwich course) :
Training 24 months : 20 800 € HT
Direct entry in MSc2 : 11 950 € HT
VAE/VAP :
VAE : 4 200€ HT
VAP : 850 € HT
International Student Pack: Mandatory fee of 490€ for exclusive support services for international students.
What kind of financial aid is available?
INSEEC offers several financial aid schemes:
les chiffres clés de la formation en MSc  Banque d'Affaires et Ingénierie Financière 
75%
Taux de satisfaction global par rapport à la formation – Promo 2020
100%
Taux de réussite – Promo 2019
93%
Taux d'employabilité (insertion à 6 mois, sauf poursuite d'études et année sabbatique) – Promo 2019-2020
Disability
The OMNES Education Group pays particular attention to the societal environment, including the disability dimension. Indeed, we believe that students with disabilities should not have any problems in pursuing their studies and starting a professional career. We accompany them to facilitate their access to the premises, offer them personalized advice as well as adapted accommodations throughout their school career.

Accessibility of premises: all our campuses are accessible to people with disabilities.

To learn more about the OMNES Education Group's disability policy, click here.

Contacts for disability referents by campus:
Bordeaux : Anne-Sophie SCHENKELS – asschenkels@inseec.com
Lyon : Mylène BESTOSO – mbestoso@inseec.com
Paris : Priscila SELVA – pselva@inseec.com
Chambéry : Géraldine RIVAL – grival@inseec.com



Updated 29 August 2022