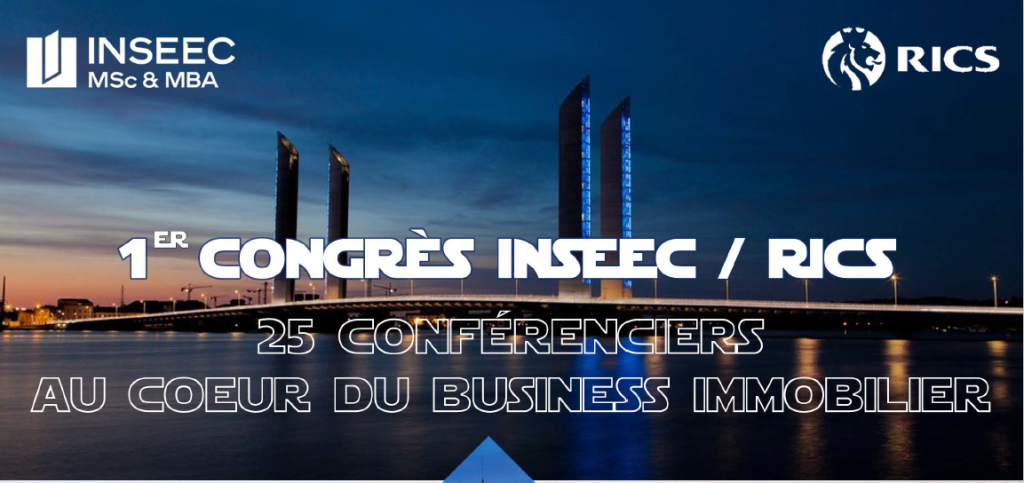 On Monday June 18th, INSEEC Real Estate Bordeaux will organize for the first time a joint congress with the RICS, a certification organization, symbol of excellence in real estate.
Overheated market, shortage of properties, speculative bubble… For a few years, especially in Bordeaux, the real estate market has been flirting with the heights and unleashing passions. The aim of this conference, entitled , is to disentangle the true from the false, to separate reason from emotion by bringing together experts and the main players in the Bordeaux real estate market: " the intangible value of real estate, reasons and emotions ".
INSEEC Real Estate offers specialized training inasset management and real estate, from BAC+3 to BAC+5. The RICS (Royal Institution of Chartered Surveyors), founded in 1868 and co-hosting the event, is an international professional organization whose role is to promote the real estate industry by setting standards of ethical regulation and defining good ethical practices in the sector. The accreditation that it delivers offers the guarantee to buyers looking for a property, advice, an estimate that they are facing a quality professional, trained to international practices and ethical standards.
Six round tables will be held throughout the day :
-10:30/10:45 Presentation of RICS and the "shape the future" project and INSEEC
Pascale WEBER, MRICS, President and Founder of ME FIN
Ludovic DEWAELE, MRICS, Architect, co-leader of the RICS South West Regional Group
Laurent BERGERUC, Director Msc & MBA at INSEEC & INSEEC REAL ESTATE
-10:45/ 11:30 Emotions and rationalities of wood construction
Daniel PALMARO, General Manager CLAIRSIENNE
Hervé LAPASTOURE, Director of Eiffage Immobilier Atlantique
Patrick MOLINIE, Head of Construction Development, FCBA
Philippe BARRIEU, President of TOURNY MEYER
Stéphane CAZE, Department of urban planning, heritage and landscapes, Bordeaux Metropole
-11:30/12:15 Development of new uses and innovation
Laurent POULON, General Manager of QUARTUS
Mario BASTONE, Managing Director of LOGEVIE, member of GROUPE ACTION LOGEMENT
Rémi ROSSAT-MIGNOT, Innovation Project Manager, GROUPE PICHET
Carlo TAMANINI, NEXITY Development Director
Stéphane CAZE, Department of urban planning, heritage and landscapes, Bordeaux Metropole
-12:15/13:00 The value of vineyard land, "beyond location
MICHEL AROLDI, Owner and operator of Château DOMPIERRE David LAWTON, Managing Director of INVEST BORDEAUX
Jean Luc ZELL, Director of Château d'Agassac- Haut Médoc Bruno LEFORTIER, Land expert, President of "Les 5 Sens
Laurent CISNEROS, Owner Château de Rouillac – Pessac Léognan – Vice President of the appellation
Matthieu FERRUA, President – SXD
Thierry BERTHOMIEU, Director of the Copernic program – Thales
Mathieu RIGAUD, Innovation and BIM operations project manager – Vinci Facilities
Jean-Eric FOURNIER (moderator), Director of Sustainable Development –
Foncière des Régions /FRICS – Leader of the DO RICS France Professional Group
-4:00 pm to 5:00 pm Retail: "Sustainable retail real estate models".
CHARLES RIBAK, MRICS, Associate Director of Commercial Real Estate
Vincent XOLIN, MRICS, CODIC France Development Director
Patrick DUGUE, FRICS, President of DUGUE Commerce JEROME MASSA, Deputy General Manager BERENICE
Mr. Jacques MANGON, Mayor of Saint-Médard en Jalles, Vice-president of Bordeaux Metropole in charge of regulatory urban planning and land strategy, President of the FAB.
Chantal BECOT, Local Economy Manager, Economic Development Department, Regional Development Department, Bordeaux Metropole
5:00 pm – 6:00 pm Bordeaux Metropole market update on all asset classes
Damien LAVAUD, Regional Director, CREDIT FONCIER EXPERTISES (regulated by RICS)
Updated 24 February 2022