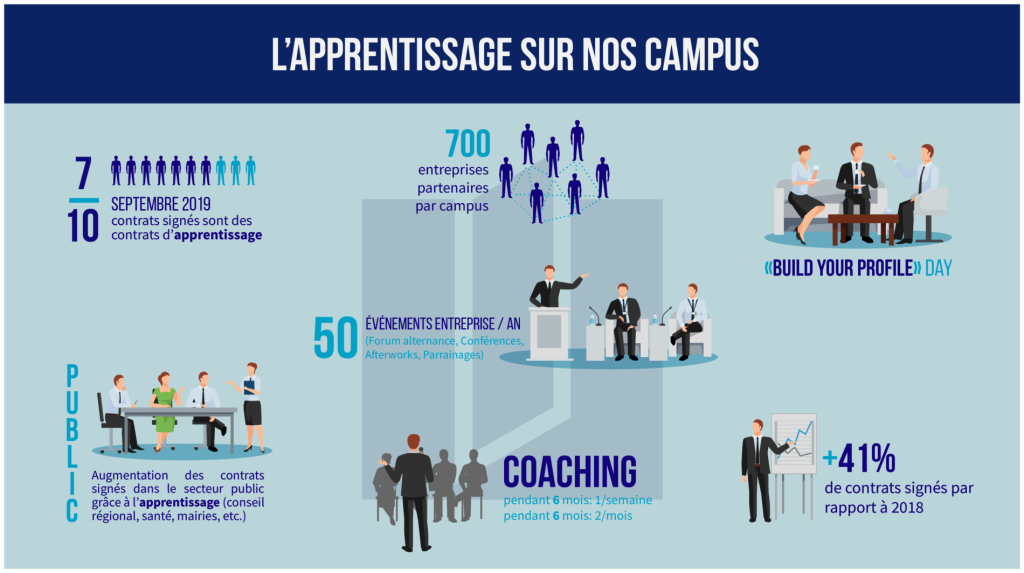 Apprenticeship, a new contract with many advantages
INSEEC U. Real Estate has been offering a new form of work-study contract for the past year, the apprenticeship contract. It is gradually replacing the professionalization contract. It is very advantageous for both students and companies. Indeed, it is a very useful human investment since it allows the apprentice to be attached to the company's own values and to be trained in its activity.
The student's remuneration and the financing of his or her training are covered by the Opérateur de Compétences (OPCO). The geographical sector and the company's branch agreements are the two criteria that determine the amount of funding for the training.(INSEEC's financial aid)
All of our programs offered on the Bordeaux campus are eligible for apprenticeship, professionalization or internship contracts. Different types of schedules are offered on the Bordeaux Campus, they vary according to the level (Bachelor, MSc&MBA 1st or2nd year) and the program (+50 specialties).
Students have at their disposal a solid network of more than 700 partner companies from the public and private sectors. To assist them in their search for a company, the Work-study and Continuing Education Department guides them and prepares them for the various stages of recruitment. Work-study contracts undoubtedly facilitate the professional integration of young students into the job market.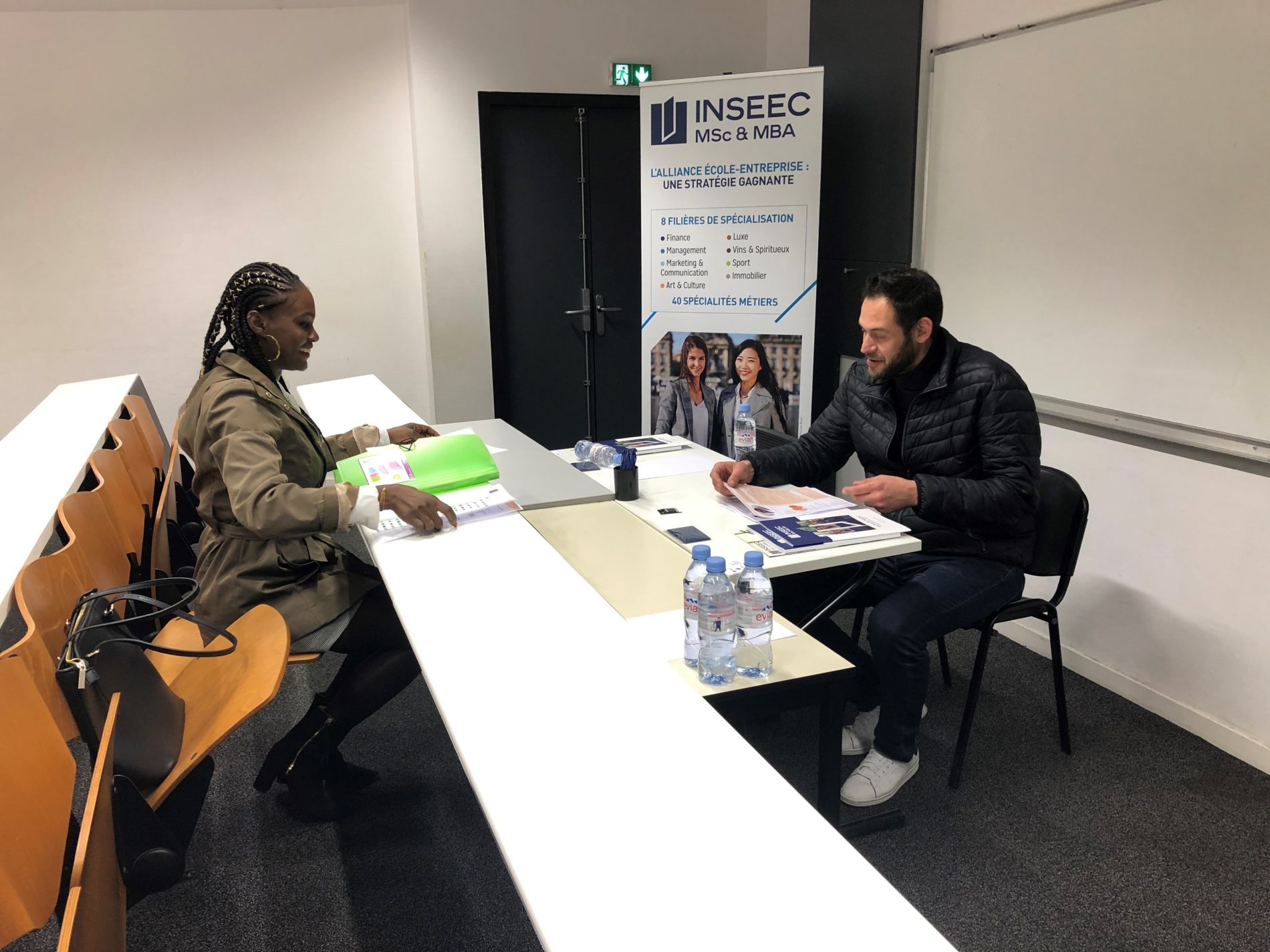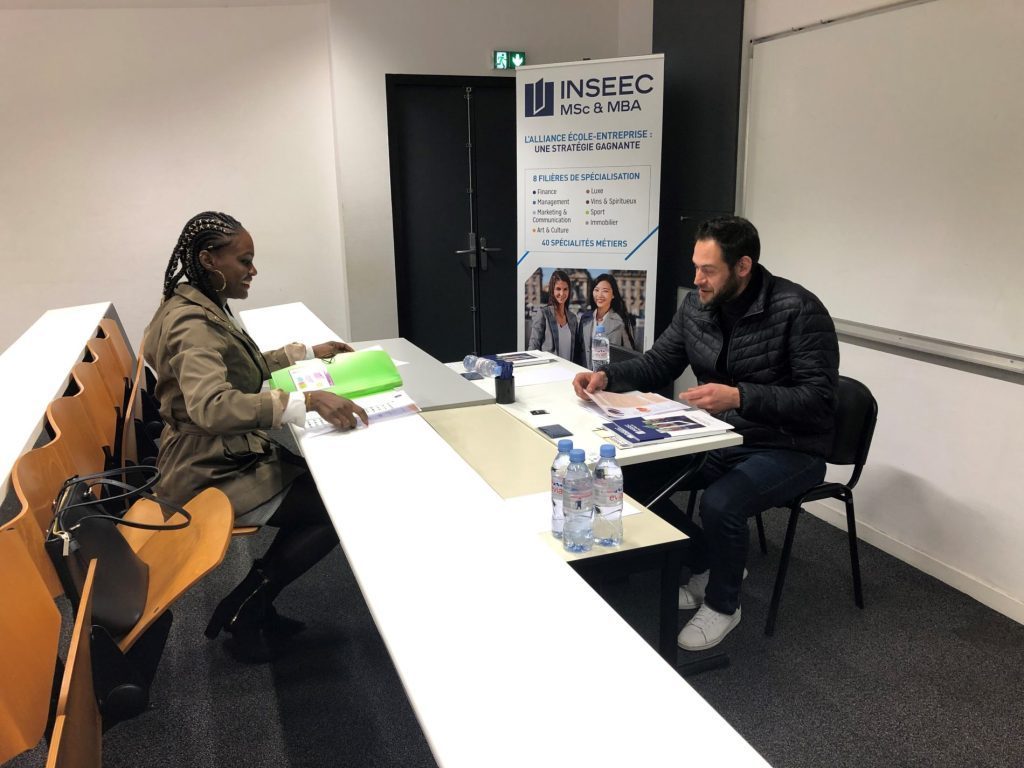 The school in association with specialized organizations for a complete accompaniment of the students
The Bordeaux campus offers several solutions to address common student issues:
Our work-study and continuing education department assists all candidates registered in our programs in their search for a company. CV and cover letter coaching workshops, in-house recruitment sessions, Facebook group for sharing offers and good deals, daily publication of offers on the intranet, quarterly professional afterwork, work-study forum, conferences and sponsorship, "build your career" day. The school has put in place numerous means to help our students find a contract for the new school year. Work-study students are offered a job placement service, coaching for their job search, and assistance in case of breach of contract.
Agefiph offers an assistance program and dedicated offers for work-study students with disabled worker status.
Work-study students receive housing assistance from VIA HUMANIS. The organization takes care of the housing search free of charge and has a network of residence partners. VIA HUMANIS also negotiates the costs of the file.
The state also helps work-study students to finance their accommodation via " mobili-jeune ".
INSEEC has negotiated the price of the B license at 699€ for all its students. In addition to this, the state provides special assistance for work experience to obtain a driving license.
https://travail-emploi.gouv.fr/formation-professionnelle/formation-en-alternance-10751/apprentissage/apprentis-aide-permis
Updated 24 February 2022