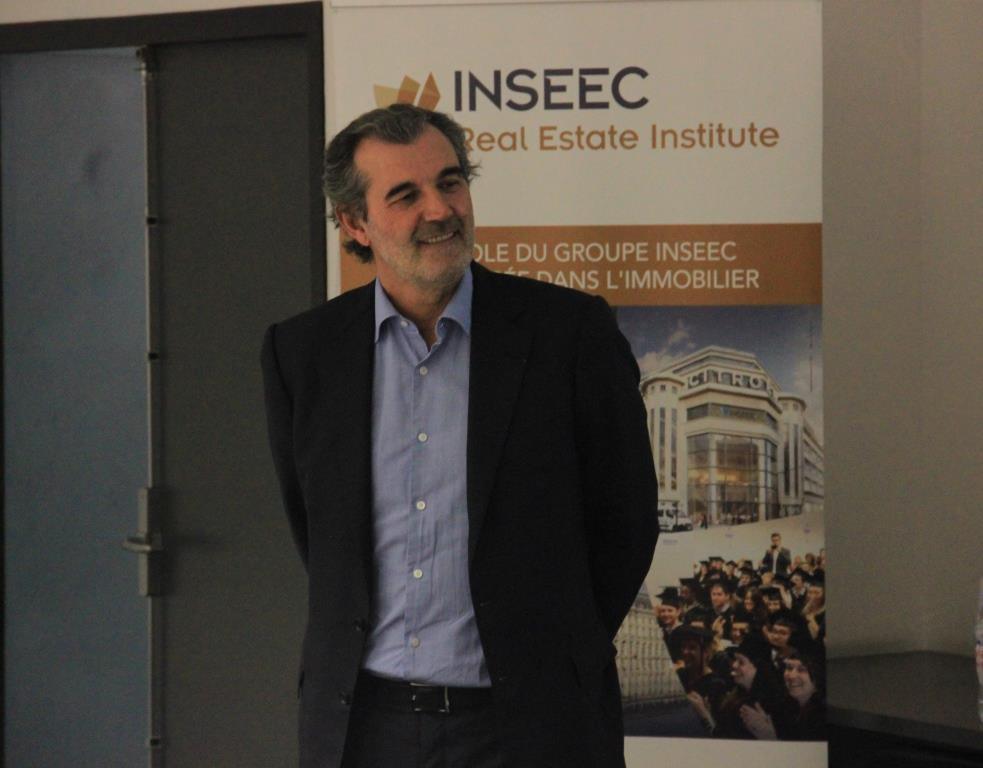 The Real Estate Institute recently welcomed its new sponsor: Laurent Vimont, President of Century 21, the world's largest real estate network.
After an unconventional educational background and graduating as valedictorian from the army, Laurent Vimont chose to become a real estate negotiator in 1983.
After 30 years in the same company, and having been in all positions, Laurent VIMONT is now the President.
Century 21 is the largest real estate network in the world with nearly 850 franchised agencies and offices. This makes it number 1 in terms of revenues for the transaction activity and number 2 in the French market for the rental management activity with 130,000 housing units managed. The network now has more than 5,500 agents and will be recruiting many work-study students in the Aquitaine region in 2017.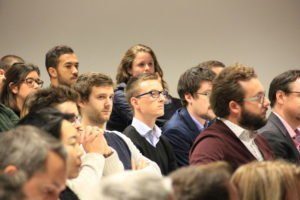 Laurent Vimont was able to share his advice and experience with the students of the MSc2 Real Estate Management course by looking back on this great personal and corporate success.
"Be brave, be bold, embrace the future with enthusiasm. Your life will be what you make of it… You must assume your opinions, be courageous, take risks. Fortunately, creativity, the right to make mistakes, inventiveness, is back in fashion.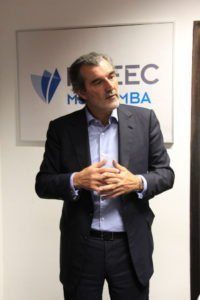 In relation to management: What changes? What demarcation?
"Knowledge has changed sides, as it has for clients. This is the first time that the integrated know more than the integrators.
Mastering the digital environment is essential. You have to be adaptable as things are moving much too fast."
In the same way, it is necessary to "cultivate the right to challenge. The manager's divine word is over".
What advice do you have for setting up a franchised or independent real estate agency?
"To be a franchisee is to remain independent, to decide to access a recognized national brand. Century 21 has put in place a lot of resources and there are several career paths within the agencies (from assistant to manager, from syndicate of co-ownership to transaction) and creates access to current training that guarantees success.
Single or multi-franchisee? Laurent Vimont advises against having several points of sale, but rather to have a single point of sale with all the trades.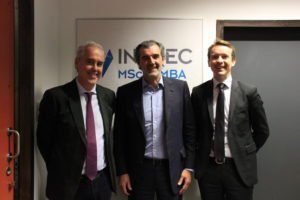 2017 Real Estate Market Vision:
The market has evolved a lot and it is very difficult to have a vision of what will happen in more than 6 months. The market is still driven by interest rates.
2 consequences:
the virtual portfolio of the buyers has increased "we go from I want to buy to I can buy
many more prospective buyers have become creditworthy.
The city of Bordeaux has a great potential, renovated, it attracts more buyers than sellers.
What advice do you have for students about the real estate industry?
With the digital revolution, mobile marketing in particular, and the multitude of comparison sites, customers are now very informed. This implies that "real estate agents must become knowledge sponges, know more and be competent, be obsessed with knowledge." It is
"The end of those who think they are great salesmen, of those who don't know, of those who talk too much, the end of those who give orders"…
Century 21 has set itself the challenge of continuing to improve customer relations and the performance of its employees in order to build a new project and define new objectives. Digital should no longer be a problem but a strength!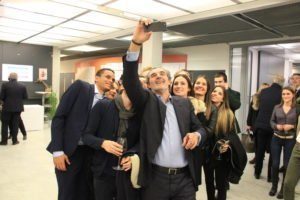 Updated 24 February 2022