To work in sports events, you need a degree in communication or sports, some experience (internship or work-study) and above all…passion!
You wish to join
an INSEEC program?
You wish to have some
more information about a program?
What is the sports event?
Sports event management is everything that includes the creation, organization and management of the fallout from a sports experience, limited in time and space. This sporting event is a form of entertainment that has spectators and participants. Participants showcase their athletic skills in a variety of physical and strategic challenges, much to the delight of spectators.
Events can be held indoors and outdoors, and can be local, regional, national or international in scope. All sports are concerned but the popularity and media coverage are not the same for all. On all scales, more than 2 million sporting events are organized each year. The sports events market represents more than 2% of the French GDP, which means a lot of opportunities in terms of jobs.
Among the major sporting events are the Winter and Summer Olympic Games, the Paralympic Games, tennis tournaments (Roland Garris, Wimbledon, Australian Open, US Open, etc.), the Paris Dakar, the Tour de France, the Super Bowl, the Football World Cup, the 6 Nations Tournament, the Champions League, the 24 Hours of Le Mans, the Route du Rhum, the Cricket World Cup, the Ryder Cup, and many more.
Also noteworthy in recent years the advent of a new sport: esport. The esport event is no longer carried out by physical athletes but by digital athletes. The e-sport event often takes place online but it can also be physical, filling stadiums as big as soccer finals!
What studies should I do to become a project manager for sports events?
To become a sports events project manager, you need to have a degree in business or communications with a minimum of three years of higher education (bachelor's degree), and ideally a master's degree (five years of higher education).
Sports event project managers are responsible for coordinating the logistics of a sports event. They work with athletes and coaches to develop the best possible experience for their audience. They are also responsible for ensuring that all tasks are completed on time and within budget.
To develop all these skills and become a good sports event project manager, here are generally the studies done :
Baccalaureate, at the end of the Terminale
then Bachelor's degree (BAC+3) specialized in communication or sports. The license can be done in 3 years at the university, on the STAPS program for example. The Bachelor's degree can be obtained in a business school, accessible after the BAC, after a BAC+1 or a BAC+2. The Bachelor's degree can be rather generalist, with an international vocation, as is the case inthe INSEEC BBA program, with a specialization through corporate experience. It can also be 100% specialized, as is the case for the Bachelors in Commercial Activities in Sport Business (in sport studies or not).
then Master (BAC+5). The type of training carried out can be of several kinds:

generalist with a specialization through an internship or work-study program. This can be via a general university degree such as IAE in marketing or management or a business school degree, the INSEEC Grande Ecole program for example. The more generalist nature of the program means that it does not cut off employment opportunities in other sectors.
specialized in sports, this can be through a university degree such as STAPS (for those who would not be accepted to the competitive exam to become a sports teacher) or a business school degree. INSEEC offers a specialized training in sports: Master of Science Marketing & Management of Sports, with a possible Outdoor option.
This type of position is also available for senior profiles (minimum 10 years of professional experience) who only have a bachelor's degree but who have had their professional skills validated via a VAE or VAP.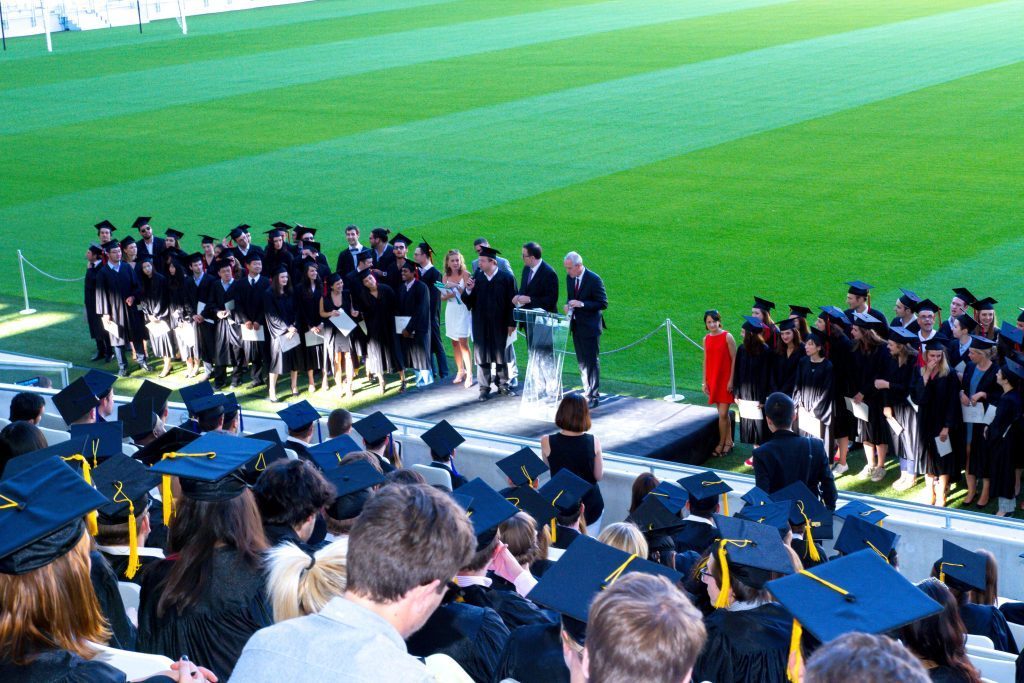 What are the qualities of a sports event project manager?
They are multiple:
A sports event project manager must be organized, professional and have a strong work ethic.
A sports event manager is committed to the success of his team and seeks ways to make an event a success. He is an outstanding manager.
The qualities of a successful project manager are that they are organized and can delegate tasks effectively.
He/she is able to evaluate and anticipate potential problems and to quickly put in place corrective measures during a sports event
excellent oral and written communication skills
must be able to work well with people in a team environment
He/she must be able to work independently and meet deadlines with customers, suppliers and employees
He is obviously able to withstand the high pressure of this type of work.
What is the salary for a sports event project manager?
The qualities to make a good career in general and in sport in particular are: being sociable, having the will, organizational qualities, leadership … and knowing how to seize good opportunities when they arise!
The main qualities to succeed in sports:
have a strong mind and will.
be sociable. This quality goes hand in hand with the need to have a good network. Participating regularly in events, exchanging cards, connecting with professionals, chatting… will help you build your network more easily.
know how to get organized.
be a leader, know how to manage teams.
know how to seize opportunities at the right time.
Frequently asked questions in the field of Sport
Our FAQ's answer questions you may have about sports:
Partenaires et événements sportifs INSEEC
Updated 2 August 2023