A practical way to combine performance at work with the desire to succeed in school, work-study programs have become a highly coveted type of training. An organization that allows you to train for a job and practice it at the same time. With work-study programs, it is the company, via its OPCO, that undertakes to pay the cost of the students' studies. In the same sense, during the work experience, the student is paid.
You wish to join
an INSEEC program?
You wish to have some
more information about a program?
The advantages of work-study programs
Because the work-study program is a multi-faceted solution, it is important to clarify a few points before embarking on this path. You need to understand that when you are an alternating student, you have the opportunity to work and obtain a degree in your field of expertise. It is therefore an initiative that allows you to complete your training directly within a company. To this end, you have the opportunity to increase your skills with training that is directly put into practice. An altering is paid, but on this point, it is up to the company to set the remuneration, in accordance with the legislation. The work-study program is therefore a path that offers you the privilege of learning and working. In a way, you can study for free and earn money at the same time.
Level of study and specialization
The level of study and the specialty of each are not required when it comes to the alternation. From the CAP to Bac +6, without specifying a specialization, you can join a company as a work-study student. It's up to you to choose a training program that suits you and is most in line with your professional goals and passions. Once you have arrived in the world of work-study, you can follow a work-study program, an apprenticeship or a professionalization contract The choice depends largely on what you want to achieve at the end of the process, what the company wants and your age. Also note that the company can hire you as soon as your work-study project ends. The work-study program is often a sort of pre-employment trial period.
Do work-study students have specific rights?
Regarding the right of a student to work in a company. It is important to note that you have the same rights as the other employees of the company. Therefore, you can benefit from all agreements and provisions related to the Labor Code. You are entitled to paid vacations, profit-sharing, luncheon vouchers, transport allowance, various reimbursements (such as medical expenses and others) as well as various participations if there are any. It is important to note that the status of an intern and that of a work-study student are not the same. These are very different contracts. A trainee is in initial training, he is not an employee of the company.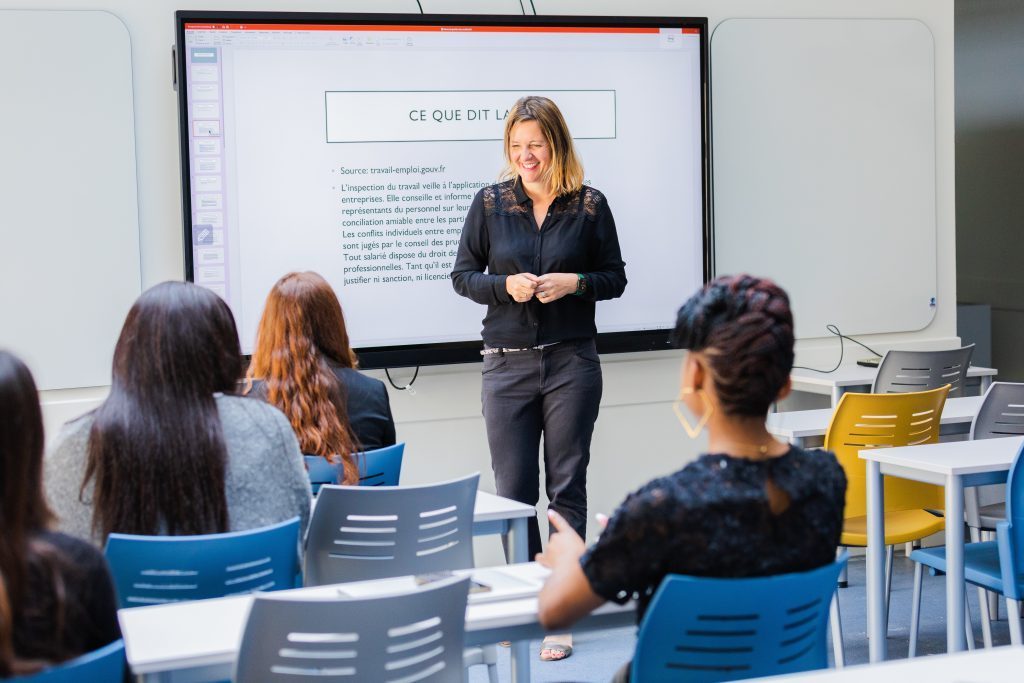 What are the duties of the work-study student towards the company that hires him/her?
Just as there are rights that are related to the work-study program, there are also duties. The student has duties that he or she must fulfill for the company in question. If you are a work-study student who wants to succeed in your professional experience, you must be rigorous and professional. Also, you must be punctual and committed.
A detail that you must not forget when you are an intern: responsiveness. It is very important to be responsive to better understand the professional world in which you evolve and to concretize the theoretical side of your training. If you do not feel comfortable throughout your work-study contract, you have the possibility of breaking it (after validation with the school). It is your professional future that is at stake, you must be fulfilled throughout your training at school or in the company. You can become an employee of this company after you have obtained your diploma, but you can also turn to other brands.
Specializations available at INSEEC
Whatever the field you want to work in, INSEEC offers a variety of professional training courses. In our school, you have the opportunity to benefit from a supervised learning process to become a seasoned professional. For the specialization, you can choose :
BUSINESS;
luxury and wine;
marketing;
finance;
human resources ;
Communication
digital and data;
sports;
International ;
real estate.
For programs that are accessible within INSEEC :
In addition to the various fields available in our specialized school, please note that it is also possible to finance your studies in initial training. Indeed, INSEEC offers to students financing for their studies with banking partners and private and public grants.
The alternating rhythm allows students to continue school and work at the same time. This type of contract can be a permanent contract, a fixed-term contract, a temporary contract, a civic service contract, a professionalization contract or an apprenticeship contract.
Updated 18 October 2023